Major Industrial Developer Quietly Enters S.D. Market
Monday, October 11, 2004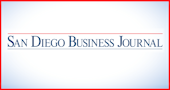 With only one local project, the Opus Group of Cos. based in Minnetonka, Minn., has opened a San Diego office.
"My goal is to have four new projects in the pipeline by the end of next year," said Chris Wood, the director of real estate who Opus hired from Dallas-based Trammell Crow Co.
At Trammell Crow, Wood was responsible for acquisition, development and marketing of office and industrial properties in San Diego County, as well as brokerage for clients. Before Trammell Crow, Wood was a broker at Colliers Iliff Thorn in La Jolla for 11 years.
The Phoenix-based Opus West division has an 8-year-old Southern California operation centered in Irvine. The SoCal division controls 7 million square feet of office, industrial, retail and apartment projects.
Opus' only local development is Opus Crossings on 18 acres in Otay Mesa. The industrial business park will be built in two, two-building, 160,000-square-foot phases.
Wood and an assistant moved into Opus' University City office last week at 4350 La Jolla Village Drive in the Smith Barney tower.
According to National Real Estate Investor magazine, privately held Opus is the largest industrial developer in the United States and the second-largest office builder.
Its projects total more than 1 billion square feet annually, and the company's goal is to build 2 billion square feet per year, according to Wood. And. the majority of Opus' development is funded internally.
"That's very, very unique. Most developers utilize other people's money," Wood said.
In addition, Opus keeps architects on staff and acts as its own general contractor. Wood said his next local hire will probably be a senior project manager for the construction side of the business.
"We're pursuing suburban office sites, multi-tenant industrial, and we're very keen on developing residential," he said.
Despite Opus' vast portfolio, Wood said he had not heard of the company before an executive search company approached him about his new job. He said he was "pleasantly surprised" by the company's experience and capabilities.
- - -
Management Contract: San Diego-based R.E. Hazard Contracting Co. hired CB Richard Ellis to manage and lease its 600,000-square-foot portfolio of 21 office, industrial and retail properties in San Diego County.
Two of the largest properties are Hazard Commercial Complex, a class A industrial project in Sorrento Mesa, and Hazard Center East, a retail center in Mission Valley.
R.E. Hazard managed the portfolio on its own in the past. Peter Bride of R.E. Hazard will join CB Richard Ellis' Asset Services Team as the general manager of the properties.

Joe Newman of CBRE will lead the management team. Ann Weinstein and Linh Nguyen will perform accounting duties. Dean Asaro and Brad Jones are the leasing brokers.
CBRE manages approximately 7 million square feet in San Diego County.
- - -
Two In Oceanside: Another developer is joining the growing group of investors constructing industrial facilities in Oceanside.
This time, San Diego-based CruzanMonroe has bought 30 acres in the Ocean Ranch Corporate Center. The company paid $10.57 million for lots 10 and 11.
Ron King and David Onosko of Coldwell Banker Commercial-North County Properties represented the buyer and seller, Ivey Ranch Development Co. LLC.
CruzanMonroe plans to build a business park called La Pacifica with up to 520,000 square feet. The first phase, where construction is expected to begin early in 2005, will be a three-building manufacturing and distribution complex.
Nearby, to the east of Rancho del Oro Drive and north of Oceanside Boulevard, Carltas Investments LP of Carlsbad and Koll Co. LLC of Newport Beach paid $6.1 million for 24.6 acres where they plan to build the Seagate Corporate Center.
Tim Moore and Mel Coffman of GVA IPC represented the buyers.
Seagate will have research and development and office space.
- - -
Strong Market: Kearny Mesa is the healthiest industrial property market in central San Diego, according to CB Richard Ellis.
In a midyear report compiled by Rob Merkin, Brad Black, Larry Jackel and Pat Collins, the brokerage reported that the vacancy rate for industrial real estate fell from 5.4 percent to 4.8 percent during the first half of the year.
Sales seem to have fallen off from the record pace Kearny Mesa had in 2003.
According to CBRE, $86 million was spent during the first half of the year , less than half of the $193 million spent in all of 2004.
Due to limited sites for new development, industrial land prices are now $25 per square foot in Kearny Mesa. With prices at that level, future development may make more financial sense as office development, which can charge higher rents, CBRE reported.
- - -
Apartment Outlook: With 19,000 jobs added to the region and skyrocketing for-sale housing prices during the second quarter, there will be strong demand for San Diego County apartments in the long-term, according to Phoenix-based commercial real estate brokerage Hendricks & Partners.
In the short-term, however, the firm noted that many renters are becoming homeowners. Interest rates are still at historic lows so many tenants are buying new and resale condominiums and apartments converted to condos, and they're ending up with monthly payments comparable to many apartments in the area, Hendricks & Partners reported.
That fact combined with some apartment construction in the county lead to a higher vacancy rate during the second quarter. From June 2003 to June 2004, vacancy rose from 5.8 percent to 6 percent, according to Hendricks & Partners. However, rents continued to increase also, rising by 4 percent to an average of $1,189 per month from $1,143.
Send residential and commercial real estate news to Mandy Jackson via e-mail at mjackson@sdbj.com or via fax at (858) 571-3628. Call her at (858) 277-6359, Ext. 3114.