Desalinated Water Crucial to County's Economic Growth
Monday, October 11, 2004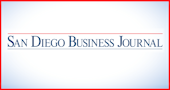 San Diego's economy continues to prosper.
San Diego economic planners have worked hard to build a more diversified economy in order to maintain a vibrant local economy untouched by the rises and falls of any single industry group.
Some industries in San Diego have remained stable with steady growth, while others, such as high-technology, bioscience and medical technology have come onto the forefront as major sectors of economic growth.

We also continue to see increases in agricultural production value due to specialization in such high-value crops as avocados, exotic flowers and nursery and decorative plants.
Manufacturing remains the largest contributor to the county's gross regional product, according to the Economic Research Bureau of the San Diego Regional Chamber of Commerce. Tourism and its supporting service industries have seen continued growth in past years. And, the local military complex remains one of the region's top three industries.
A critical common denominator among all these industries is a reliable water supply.
It is well known that we must import most of the water we use. The critical responsibility of managing the importation and distribution of this massive amount of water belongs to the San Diego County Water Authority.
Just as our economic planners have worked to diversify our economy, the Water Authority board of directors has initiated a sound investment strategy to diversify the region's water supply portfolio. The Water Authority has secured significant new supplies of water through the historic Quantification Settlement Agreement that includes the landmark water transfer deal with the Imperial Irrigation District and the relining of All-American and Coachella canals.
The Water Authority board also approved a number of water facilities and infrastructure projects to ensure our water needs are met well into our future.
Perhaps the most critical project the Water Authority will undertake in the future is the development of an abundant local source of water, the Pacific Ocean.

By 2015, the Water Authority plans to provide 80 million gallons per day of safe, high-quality drinking water through its seawater desalination program.
This program will influence business growth, quality of life and provide significant benefits to all of San Diego County.
One of the most basic benefits of seawater desalination is that it is drought-proof. Because San Diego is located next to the largest reservoir in the world , the Pacific Ocean , desalinated seawater is constantly renewable.

And it is affordable. The Water Authority's recent analysis of future water rate impacts revealed that seawater desalination would cost future ratepayers less than 25 cents a month more than the alternative of continuing to import more, increasingly more expensive and less reliable water, from Northern California.
Finally, and most importantly, seawater desalination will increase overall water reliability and enhance both the quality and quantity of the water we all depend upon.
We at the chamber encourage and support the Water Authority's efforts to secure this new and critical source of water for our region. Our economic vitality depends on it.
Jessie J. Knight Jr. is the president and chief executive officer of the San Diego Regional Chamber of Commerce.