Ad Agencies Sending a Message
Monday, October 4, 2004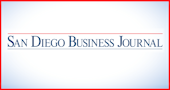 While Los Angeles and New York are known to have some of the best advertising agencies in the nation, the San Diego advertising community is looking to make its mark on the industry.
San Diego advertising agencies can already boast of such high-profile clients as Skyy Vodka, San Diego Zoo, bebe Stores, Inc., Sahara Casino, Callaway Golf Co., Taylor Guitars and Yamaha, but getting national recognition has been a challenge.
"New York is the center of the advertising universe , it is by far the biggest, most significant advertising center in the world," said Jim Matthews, the president and chief executive officer of San Diego-based advertising agency Matthews Evans Albertazzi, whose client list includes Toshiba, locally based WD-40 and Kodak/Encad. "San Diego is much smaller. What drives the advertising business here is the level of creativity. That level is just as high as it is in Orange County or Los Angeles."
Matthews said while some local advertising agencies have been able to attract nationally recognized clients, San Diego-based companies have not always looked to local ad firms before turning to the firms in markets such as Los Angeles or Orange County.
"San Diego is no different than any other markets. The agencies here provide creative thinking second to none," Matthews said. "We would like to see local businesses consider local resources. There is lots of talent here they should look at first."
Andreas Roell, the president of Geary Interactive, a San Diego-based interactive marketing firm, said companies need to realize the benefit of local advertising agencies.
"If we put the emphasis on the local side of things, then the Qualcomms of the world will know that there is advertising value here," Roell said.
The benefit of retaining clients from in and around the region will not only benefit the advertising industry but the San Diego economy as well, Roell said.
"The excitement we generate, the revenue we generate for our clients, the work we do , it's important to the community," Roell said.
In 2003, the San Diego Business Journal reported the top 19 advertising agencies in the region accounted for more than $53 million in billings.
"We want people to know that the skill set, the capabilities, the experience , it is in their back yard vs. (saying), 'I don't know anything about the San Diego advertising community, I am going to turn to Orange County or Los Angeles because I know there are big shops there,' " Roell said. "There's no reason that San Diego cannot be considered a hotbed for advertising."
National Appeal
However, Nick Lambesis, the chairman of the Lambesis Agency, has been able to attract national accounts.
A Carlsbad-based advertising firm, Lambesis has worked on several national accounts, including Skyy Vodka, bebe Stores Inc., Airwalk, Hitachi Plasma and Guess Jeans.
"We don't really think in terms of attracting people to San Diego," Lambesis said. "We think of finding partnerships with brands wherever they are. Until we had picked up Hitachi, we had never worked with a local account. (Clients) are much more interested in the best agency for their business than in regards to geography."
With such high-profile clients, the Lambesis Agency has been able to use its work to attract extremely talented employees, developing a reputation as one of the best advertising agencies in the industry, according to several San Diego advertising professionals.
"If you look at the work we did for bebe, Airwalk, Hitachi , it has continuity to it," Lambesis said. "But I don't think you can build a great brand if you don't have a great product to start with."
Lambesis, who is also an advertising professor at San Diego State University, said to gain national recognition, San Diego has to be able to compete with other markets.
Northern Challenges
"One of the challenges here is there's a great deal of talent in Los Angeles," Lambesis said. "In order to be able to compete with Los Angeles, we have to be at the same level and better than the agencies in Los Angeles."
David Castle, the president of Castle Advertising and president of the San Diego Ad Club, said San Diego agencies can compete with firms in Orange County and Los Angeles.
"There's lots of bright people here," Castle said. "You look at (advertising agencies) VitroRobertson, the Lambesis Agency, MeadsDurket, they can compete with anyone. I think by choice most of the advertising people here could be in Los Angeles or New York making a lot more money. But they choose the lifestyle here and choose to work here because it's not about the money, it's about doing the work."
In his second year as president of the San Diego Ad Club, Castle said the group is beginning to promote itself, highlighting the work of its members and making its presence nationally known.
Sheila Fox, owner of Fox Marketing Network, a San Diego-based ad agency, has taken on the San Diego Ad Club as a client.
"We have people from all around the country hiring San Diego firms," Fox said. "We haven't put enough emphasis on promoting ourselves. It's like the saying 'The shoemaker's kids are always the last ones to get shoes.' "
Fox, who is also the manager of the Ad Club, said working on the group's strengths and networking with the national ad organizations are key to spreading the word about the San Diego advertising community.
The oldest business association in San Diego, the Ad Club represents about 230 companies in the San Diego region, with more than 500 members.
The revamping of the Ad Club includes updating the organization's Web site, presenting monthly seminars and workshops, and hosting high-class events, Fox said.
The Ad Club is also looking into local TV, radio and print spots, including billboards around town, she said.