There's Little Impact From Satellite Radio , So Far
Monday, November 29, 2004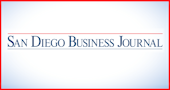 While satellite radio may be gaining in popularity, the reality is that it's not stealing any market share, according to local radio executives.
Officials at Clear Channel Radio San Diego, which has 11 stations, said concern over satellite radio is no different than their concern over CD players, MP3 players or other stations in the market.
Jim Richards, the local vice president of programming for Clear Channel, whose listener base reaches more than 2.6 million San Diego residents, said satellite radio has such a small subscriber base in relation to the total amount of commercial radio listeners nationwide, its impact has really been minimal on the radio industry.
"This is just another distraction, another option and another choice for consumers," Richards said. "Combined, nationwide, the two services have 3 million subscribers. That's really insignificant. There is really no cause for on-air broadcasters to fold up and go away."
Although, in the next 12 months, more than 5.5 million adult Americans plan to subscribe to satellite radio, according to Simmons Spring 2004 Unified Hispanic and National Consumer Survey, the oldest provider of consumer product purchase, shopping and media usage behavior.
Recently, radio talk-show host Howard Stern, dubbed the "King of All Media," signed a five-year contract estimated at $500 million with Sirius Satellite Radio for exclusive rights to his show.
Beginning Jan. 1, 2006, Stern's radio show will be heard only on Sirius, a move that's likely to increase Sirius' popularity.
In addition to Stern, Sirius has also launched Shade 45, an uncensored hip-hop channel produced by rapper Eminem.
While most listeners turn to radio because of its ability to provide commercial free music, one drawback is its ability to provide local content.
Richards, who oversees the programming of the 11 San Diego stations, discussed satellite's ability to provide emergency local news coverage.
"If there is a large fire burning down houses, destroying acres of land, who are you going to turn to? XM radio (a satellite radio company) is not going to be your friend," Richards said. "There can never be a replacement for strong local radio stations. Compelling, local content is something that there will always be a need for."
Darrel Goodin, the general manager of the local affiliates of Jefferson-Pilot Communications Co. of Greensboro, N.C., said satellite radio has had little, if any, effect on local commercial radio. Jefferson-Pilot owns and operates San Diego stations KSON-FM 97.3/92.1, KBZT-FM 94.9 and KIFM-FM 98.1.
"I don't think to date it has had any effect on local radio," Goodin said. "We are way too early in the game to see any effect. But it would be foolish to discount satellite radio and say that it will never be a factor."
Parallel to the issues that cable TV faced in the early 1970s with the introduction of the HBO network, satellite radio is now walking down that same path of asking consumers to pay for services that they have normally received free of charge, Goodin said.
"Think back to the early days of cable TV. It took people a long time to pay for TV because TV had always been free. They couldn't fathom paying for something that they had always gotten for free," he said. "The question is 'Do people value radio the way they value TV, to the point where people would be willing to pay a monthly fee?' "
According to the Simmons survey, the consumers who plan to subscribe to satellite radio are 30 percent more likely to be between the ages of 25 and 34, a group that Goodin noted is not listening to commercial radio as much as it used to.
"We do worry about satellite radio," Goodin said. "Young people are using commercial radio less and less."
Established in 2002, Sirius, a New York-based satellite radio provider, offers more than 120 channels of commercial-free music, sports, information and entertainment to more than 660,000 subscribers.
Sirius recently hired former Viacom Inc. president Mel Karmazin as the company's new chief executive. Viacom, which owns Infinity Broadcasting is the current home of Howard Stern's talk show.
In addition to acquiring Stern and Eminem, Sirius has also garnered rights to the National Football League as the official satellite radio partner of the league.
Jim Collins, a spokesman for Sirius, could not estimate the number of subscribers in San Diego County, although he did say the majority of the subscribers do come from metropolitan areas.
While satellite radio is new to the industry, Collins said the company does not feel it is in direct competition with local radio stations.
"Our position is that there will always be room for local radio," Collins said. "People will always want to be connected to local radio. We believe satellite radio is compatible to regular radio and can co-exist."
The cost for a Sirius subscription ranges from $12.95 a month to a lifetime subscription for $499.
XM Satellite Radio Holdings, Inc., based in Washington, D.C., has retained a larger following, with more than 2.5 million subscribers tuning in to its 130 digital channels, 68 of which are commercial-free.
In October, the company signed an 11-year, $650 million agreement with Major League Baseball to broadcast every game beginning with the 2005 season.
Chance Patterson, vice president of corporate affairs for XM radio, estimated that there are 25,000 subscribers in San Diego County.
San Diego, along with Dallas, was one of the first places XM radio was available when it launched in the fall of 2001, Patterson said.
He said San Diego was a viable market to launch XM radio because of the region's characteristics, such as the large amount of commuters, high-income area, technical savvy residents and multiple music venues in the area.
"The residents really lended themselves an interest in XM," Patterson said. "The radio stations aren't great. People are starved for XM radio in San Diego."
Subscribers can receive XM radio for as low as $9.99 per month and as high as $499.99 for a five-year package, depending on the length and type of plan.