New Postal Annex Boss Sends a Message
Monday, November 29, 2004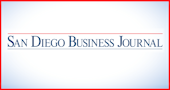 With Thanksgiving dinner eaten and shoppers arriving en masse at malls around the nation, San Diego-based Postal Annex is ready for the busiest packing and shipping season of the year.
The company's new president, Patrick Edd, said shipping a package is one thing, but knowing the best way to pack a porcelain teacup on its way to Grandma's house in Ohio is the most important part of the business.
Just more than half of Postal Annex customers are consumers who need to ship something quickly or unexpectedly, or mail a gift, Edd said. The other half are working from small offices or home offices and they use Postal Annex to supplement their own business operations, he said.
In Wisconsin, for instance, a franchisee recently helped a small business prepare and send 15,000 next-day letters. It was a task the pharmaceutical company couldn't handle on its own.
Providing those types of business services helps Postal Annex meet its goals for growth.
The privately held corporation reported systemwide sales of $64 million in 2003. Edd said the company's franchises are on track to produce $75 million in sales in 2004.
In September, Edd, 42, added the title of president to his chief financial officer role and the company announced its plan to expand by 40 percent by the end of 2005.
"Forty percent (growth) is certainly a realistic goal for us. This year we will have added about 40 stores to the system," Edd said. "As you increase your brand awareness, you get better more in demand."
Don DeBolt, president of the International Franchise Association in Washington, D.C., said franchising has seen explosive growth during the past few years, with 10 percent to 12 percent annual increases in the number of franchise operations in the United States.
Pack-and-ship businesses, restaurants, services such as residential cleaning or elder care, and personal care businesses such as salons and spas have been the most popular franchises in recent years, according to DeBolt.
He said pack-and-ship businesses like Postal Annex serve small businesses best.
"They provide a convenience in terms of accessibility that the U.S. Postal Service doesn't provide," DeBolt said.
Also, he said, pack-and-ship businesses reduce the time people spend waiting in line to ship packages and spare small business owners the expense of equipment for shipping functions.
Adding More Stores
Postal Annex was founded in 1985 by Jack Lentz, the current chairman and chief executive officer, and has since grown to about 310 franchised stores. The company plans to add 50 stores by the end of 2004 and 70 in 2005. The chain is in 25 states, but 60 percent of its stores are in California.
"With about 70 individually owned and operated locations operating (in San Diego County) by the end of the year, we can safely say we have more locations than the U.S. Post Office, more than the UPS Store and its remaining Mail Boxes Etc. locations after their merger, and more than FedEx and its new partner Kinko's," Lentz noted.
The U.S. Postal Service has 77 post offices in the county, but 30 percent of them are in rural locations that wouldn't support a Postal Annex franchise, according to Edd.
In February, Memphis, Tenn.-based international shipper FedEx Corp. finalized its $2.4 billion purchase of Dallas-based Kinko's, a national chain of 24-hour document reproduction and business services stores.
Rebranding The Competition
In April, Kinko's stores were re-branded FedEx Kinko's Office and Print Centers, offering copying and printing services, shipping via FedEx, video-conferencing, high-speed Internet access and computer usage.
Atlanta-based UPS purchased Mail Boxes Etc. Inc. of San Diego in 2001. MBE remains the franchiser for its stores, most of which were re-branded as the UPS Store in 2003, and for Mail Boxes Etc. stores outside the United States.
While Postal Annex has more San Diego County locations than MBE's brands, there are now 5,000 UPS Store and Mail Boxes Etc. outlets worldwide.
Competition is increasing from major chains, but small operators are dwindling, according to Edd.
"UPS investing in Mail Boxes Etc. lent a lot of credibility to our industry," he said. "Every time something happens , like UPS buying Mail Boxes Etc. or FedEx buying Kinko's , it seems to enhance our operation."
He said Postal Annex has good relationships with FedEx, UPS and the U.S. Postal Service, so its franchisees offer access to all of those shippers as well as other package delivery companies.
"We continue to grow , even in the presence of giants," Lentz said. "We have situations where there's a competitor on one corner and we're on the other corner and we're both doing well."
The initial investment in a Postal Annex franchise is estimated at $119,600 to $178,650, depending on the size and location of the store. The cost includes a franchise fee, fixtures and signs, equipment, design and construction, travel expenses for training, working capital, advertising, office supplies, and licenses, insurance and other expenses.
The fuel behind a lot of the company's growth is current franchise owners who want to purchase their second or third stores. About 30 percent of Postal Annex franchisees own multiple stores, according to Edd. He said the goal is to increase that to 50 percent by 2010.
"The vast majority of our stores are in major suburban shopping centers," Edd said. "We're branching out into unconventional locations."
Some new stores are within larger retail outlets, at college campuses , such as San Diego State University , or in urban locations. Edd said a new franchise in the first floor of an office building at Fourth Avenue and Laurel Street in Bankers Hill is doing very well.
"Growing metropolitan areas always open up opportunities for these businesses to grow," DeBolt, of the International Franchise Association, said. "They'll grow as the market dictates the need."