Three San Diegans Are Named to Stem Cell Panel
Monday, November 22, 2004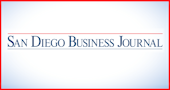 Dr. Edward Holmes, UC San Diego's vice chancellor for health sciences, became the third San Diegan to be appointed to the 29-member governing board to decide how to spend $3 billion on human embryonic stem cell research.
The promising but controversial research won voters' approval Nov. 2 under Proposition 71.
Holmes, who is also the dean of the School of Medicine at UCSD, joined local colleagues John Reed, the president and chief executive of the Burnham Institute, and Richard Murphy, the president of the Salk Institute for Biological Studies, on the panel.
The committee serves as the board of the newly created California Institute for Regenerative Medicine.

The board, slated to be filled by mid-December, will appoint two committees to approve grants. One committee will approve money for research, with the other being in charge of dispensing funds.

While the details of how funding gets distributed, and how much and for what scientific projects, are likely to be subjects of vigorous debate, local board members say they expect the process to be open, dynamic and ethical.
"I suspect that all proposals will be reviewed by out-of-state scientists who are respected experts in the field and have no conflict of interest in the state of California," said Reed, who was appointed to the board by state Controller Steve Westly on Nov. 16.
"As governors, we are there to support research in the state," said Murphy, who was appointed by Lt. Gov. Cruz Bustamante on Nov. 10. "We should not be there advocating for our own institutions and our own regions."
Murphy and Reed said they favor setting up guidelines to avoid conflicts of interest.

World-class research institutions such as UCSD, the Burnham Institute and the Salk Institute have much to gain from the initiative. As their leaders see it, they also have much to offer in terms of scientific talent, know-how and commitment.

Research Epicenter
Proposition 71 is widely seen as making California the epicenter of embryonic stem cell research, a field that scientists hope will eventually translate into breakthrough treatments for diabetes, Alzheimer's and Parkinson's diseases, and other major diseases.

What makes embryonic stem cells vital is that they could be turned into any type of tissue in the body, scientists say.

Reed said his board nomination is "appropriate," given that for the last seven years the Burnham Institute has been running one of the largest stem cell research efforts in the state, with some 100 scientists working in the field.
Only about 10 scientists have done research using nonfederally funded stem cell lines in a separate facility from scientists working on government-funded cell lines, Reed said.
The Bush administration limited federal funding of human embryonic stem cell research because it involves the destruction of human embryos needed to harvest stem cells.

Reed, however, said that of the 64 approved cell lines, few were useful for scientific research.
"A lot of the non-approved work was trickling along, but we have not been able to push the pace of what we are capable off," Reed said.
Prominent stem cell researchers such as Dr. Evan Snyder, who relocated from Harvard University to the Burnham Institute in the hope that Proposition 71 would pass, are giddy about the prospects of realizing their ideas.
Ambitious Plans
But Reed also has some ideas of his own.

For one, he plans to apply for a grant that would support the creation of a "State Cell Resource Center, which would partner with vitro fertilization clinics to obtain leftover embryos, under patients' consent, for use to create new cell lines."
The idea is to give California scientists access to the newly created cell lines, and "with no strings attached," including waving intellectual property rights, Reed said.
Secondly, Reed hopes to secure funding to expand the Burnham Institute's existing high-throughput screening facility to test the effects of chemicals on stem cells.
Reed explains the concept: "The big thing with stem cells is that you can coax them to become things you want like spinal cord neurons for spinal cord injuries ... One method to do that is to screen for chemicals that push embryonic stem cells towards a desired cell fate, (such as) insulin-producing cells to be used for Type I diabetics."
Thirdly, Reed wants to expand the capabilities of high-throughput microscopy, a tool scientists use to learn how stem cells find chemicals that push them into becoming a certain type of cell.
Reed said these are all enabling tools that most scientists can't have access to.
Murphy agreed.

He said Reed's plan to build a centralized facility allowing scientists to obtain new cell lines would be "very important" for researchers at the Salk Institute, let alone access to chemical screening.
Holmes, who was appointed by UCSD Chancellor Marye Anne Fox on Nov. 17, one of five executive officers to be appointed by the chancellors of the five UC campuses, already sees San Diego as taking the lead on the stem cell initiative.
"San Diego is especially well-positioned to play a leadership role in this promising new area of research and therapeutics, with the numerous academic and private sector institutions committed to improving human health in this community," Holmes said.
Teaming Up
Reed plans more meetings with Holmes and Murphy to discuss common strategic objectives to build a collaborative effort.
Neither Reed nor Murphy opted to discuss the hiring of stem cell researchers to their institutions at this time.
Some people have pointed to a possible brain drain from outside the state to California.
Reed said he'd welcome it.
For now, he and others will wait for the final makeup of the committee, which will have representatives from medical research institutions, companies and research advocacy groups.
A first meeting is planned five days after all seats are filled.
Reed expects the table will be made up of people with very different opinions and bringing their own agendas.
"There will be a rigorous debate about the pros and cons of different grant programs," he projected.

At the same time, Reed expects the debate to be fluid and changing over time as scientists gain more knowledge through their research. Science is unpredictable, Reed said.
But he wagered that juvenile diabetes will be one of the first diseases where stem cell research will have a real impact.
Targeting diseases of the brain, including Alzheimer's and Parkinson's, will be trickier, given the complexities of the brain, including the need to rewire cells.
He cited another scientist who made the distinction between "low-lying fruits and others where you have to climb up a tree."
"In the end, the effort will be a means to find cures," he predicted.

But that will take many years.