Urban Developer Takes Its Business Suburban
Monday, November 15, 2004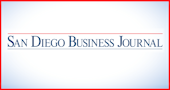 Urban condominium developer Intracorp San Diego is diversifying its business by adding suburban projects.
The move comes at a time when most big builders are looking for ways to expand their largely single-family detached housing lines of business by getting into attached housing construction in urban markets.
Intracorp has developed hundreds of condos in Downtown San Diego and is building hundreds more around Petco Park in the East Village neighborhood.
Carl Waidell, the vice president of suburban development for Intracorp, said: "We have been able to do (urban development) and we've been successful. Now we need to diversify, which we have always wanted to do."
Waidell noted that has been Intracorp's model in Seattle, where the Vancouver, British Columbia-based parent company built urban housing before moving into suburban projects.
In the local 'burbs, Intracorp plans to construct apartments, townhomes and even luxury houses, according to Waidell.
The company's first suburban project is Cedros Seaside on North Cedros Avenue in Solana Beach, a group of 22 detached row homes with prices starting at $1.3 million.
Intracorp is also planning 48 attached townhomes priced from the $400,000s off College Avenue near the College Grove shopping center in eastern San Diego, as well as 58 townhomes in Tierrasanta starting in the $500,000s and $600,000s.
Intracorp is ahead of its business plan in terms of finding suburban development sites, according to Waidell. However, he noted, "It takes a lot of time to find the right sites and make them work."
Waidell, who's worked for large, publicly traded builders such as K. Hovnanian and KB Home, said those companies are not willing to take the same risk as smaller companies. To compete, he said smaller builders "have to get a lot more creative."
Waidell said Intracorp will consider projects in every city in San Diego County, but does not have any immediate plans to seek out sites in Riverside or other neighboring counties.
- - -
Big, Big Money: San Diego-based Hammer Ventures, one of the region's most active buyers of apartments for conversion to condominiums, paid $368,889 per unit for Monarch at Carmel Valley, a 225-unit property at 12356 Carmel Country Road.
The one-, two- and three-bedroom apartments in the 4-year-old gated complex range from 825 to 1,444 square feet.
Ed Rosen and John Chu of San Diego-based Burnham Real Estate represented the buyer and seller, Monarch at Carmel Valley LLC of San Diego, in the $83 million transaction.
- - -
Oceanside Conversion: The 88-unit Flower Hill apartments sold for more than $200,000 per unit to 506 Canyon LLC, which plans to convert the rentals to condos.
The complex on 7.7 acres at 506 Canyon Drive in Oceanside sold for a total of $17.9 million. Flower Hill was built in 1977. Renovations are expected to begin during the first quarter of 2005.
Jon Busse of Colliers International represented the buyer and seller, Granite Oceanside LLC, in the property sale.
- - -
Let The Record Show: Bob Hitchcock, the San Diego regional vice president for Torrance-based Charles Dunn Co., represented Petree Cos. II & III in its $31.5 million sale of the 338-unit Forest Park Apartments at 1210, 1250, 1306 and 1430 Petree St. in El Cajon.
Hitchcock also represented the buyer, EC Phoenix Associates LLC. He has managed the property for several years.
When EC Phoenix Associates, a subsidiary of Pacific Realty Advisors in Phoenix, later sold a joint venture interest in the property for $37 million, brokers at Grubb & Ellis handled the transaction.
- - -
Rising Rents: According to Novato-based RealFacts, a multifamily housing research firm, the average apartment rent in San Diego County reached $1,210 per month during the third quarter , up 1.1 percent from $1,197 during the second quarter and up 3.2 percent from $1,172 a year earlier.
Vacancy dropped from 6.5 percent during the second quarter to 4.5 percent in the third quarter. However, vacancy was only 3.5 percent a year earlier.
Encino-based Marcus & Millichap Commercial Real Estate Brokerage judged the local market to be slightly healthier than RealFacts, noting that vacancy was only 4 percent in the third quarter. The firm predicted that vacancy will hit 3.5 percent by year-end.
While agreeing that rents are rising, Marcus & Millichap found the average rate to be lower than RealFacts' estimate. The brokerage said rents will end the year at $1,165, representing a 4 percent increase from Marcus & Millichap's 2003 statistics.
Marcus & Millichap said construction for only 3,000 apartments will be completed this year, down 27 percent from last year.
- - -
Rehab Grants: With $500,000 in state bond funding at its disposal, the San Diego Housing Commission is offering grants of up to $40,000 to landlords who want to make apartments accessible to people with disabilities through its Exterior Accessibility Grant for Renters program.
Grants are limited to $3,000 to $10,000 for common areas, up to $25,000 for properties with one to five apartments, and up to $40,000 for larger properties.
Improvements or additions can include ramps, curbs, sidewalks, railings, mechanical lifts, doors or signs.
- - -
Urban In Escondido: Barratt Urban Development, a subsidiary of Carlsbad-based home builder Barratt American, plans to build 122 townhomes on a 4.5-acre site near City Hall in Escondido.
KTGY of Irvine designed the Paramount, which will have two- and three-bedroom townhomes priced from the high $400,000s.
Send residential and commercial real estate news to Mandy Jackson via e-mail at mjackson@sdbj.com or via fax at (858) 571-3628. Call her at (858) 277-6359, Ext. 3114.