Construction Journal
Monday, November 15, 2004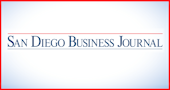 Barnhart Inc. is the construction manager for the 43rd school in the Chula Vista Elementary School District. The six-building, 63,000-square-foot school, which has not yet been named, is on the northwest corner of Santa Venetia Street and Magdalena Avenue in the master-planned community of Otay Ranch in eastern Chula Vista. It is expected to open in September for the 2005-06 school year.
Architect: Ruhnau Ruhnau Clarke.
Cost: $17.2 million.
- - -
Dowler-Gruman Architects, in partnership with Veralliance Properties, is designing "motion capture" studios where engineers will develop video game software in a 43,516-square-foot office building at 10030 Barnes Canyon Road in Sorrento Mesa. The project should be completed in the spring.
Building owner: PMSI Barnes Canyon.
General contractor: DPR Construction Inc.
Cost: $4 million.
- - -
KMA Architecture & Engineering is the architect for a two-story, 32,580-square-foot office building with parking for 140 cars at 700-720 Garden View Court in Encinitas. Construction is expected to begin in December.
Developer: Grace Partners LLC.
General contractor: Lusardi Construction.
Structural engineer: Burkett and Wong.
Cost: Unavailable.
- - -
Taylor Frager Inc. completed construction for the interiors of Newland Communities' 44,000-square-foot corporate office building at 9820 Towne Centre Drive in the University Towne Center area of San Diego.
Building owner: Irvine Co.
Designer: Interior Resource.
Subcontractors: Berg Electric, California Comfort Systems and Montbleau & Associates.
Cost: $1.7 million.