Artists Turn Their Work Into Thriving Businesses
Monday, November 15, 2004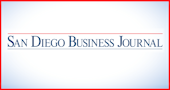 Mirjam Butz-Brown designs jewelry. She has been professionally crafting rings, necklaces and bracelets made out of precious gems for the last 21 years.
But only in the last two years has she started to realize the importance of being both a jeweler and a small-business woman.
"I fell into this as being a goldsmith and not knowing anything about business," Butz-Brown said. "In our 12th year in business, we grew so much and it got totally out of hand."
Butz-Brown, who owns and operates Mirjam Butz Brown Jewelers & Adorn Gallery in Downtown San Diego, said she was overwhelmed and did not know what to do.
So Butz-Brown, who describes herself as not a "businessperson," sought out the help of the U.S. Small Business Administration, an organization that counsels and assists small businesses.
The SBA told Butz-Brown that she needed to cut back her overhead in order to survive.
"I had to lower my overhead and I had to do that by either getting more customers, which was very hard at the time (after the Sept. 11, 2001, attacks) or by cutting back expenses," Butz-Brown said. "I had to make my work area smaller and I had to let two jewelers go."
Now, Butz-Brown meets with SBA counselors every three months and said that having a business perspective has allowed her to keep her business on the right track.
"You can't be a specialist in everything," Butz-Brown said. "My advice is to really get constant help from professional people so you don't grow out of hand."
With three employees working for her, Butz-Brown said she now has a course of action for her business and has learned to work hard at maintaining the beauty of her craft and her business.
James Patino, a business consultant for artists, said artists really must look at their art as a business.
Patino, who is working with six artists regarding their business plans, is also the business manager for his wife, Sinclair Stratton, a watercolor artist renowned for her paintings of animals.

Patino said that through an effective business plan, he was able to increase Stratton's profits by 200 percent from 2002 to '03.
Patino and Stratton operate Sinclair Stratton Studios, which is based at their home in South Park, where Stratton paints all of her pieces.
The prices range from $45 for a print to $15,000 for an original, Patino said.
He said the key for artists to operate a successful art business is to treat their business as other professionals do.
"It is important for artists to set business goals and to set challenging business goals," Patino said. "They need to put a plan together and reach those goals."
Patino said that last year he and his wife set a revenue goal for $100,000; this year it is set at $250,000.
Stratton, who has been focusing on her art for the last 14 years, becoming a full-time artist only in the last two years, said that operating a successful art business is difficult, but possible.
"It's kind of hard to find information on the art business, and artists almost expect to be starving artists," Stratton said. "I didn't buy into that. I've been nurturing my business and it's been growing."
Stratton said she hopes to expand her business to include more merchandise, such as apparel, adding employees and eventually turning the company into a corporation.
Stratton and Patino have become very passionate about charities, donating as much money as they can to help local animal charities.

"Our number one goal is to donate a certain amount of our money. Last year we donated $25,000 to nonprofits, and our goal this year is $50,000," Patino said. "The bigger the pie, the bigger slice we can give away."
On Nov. 26, Stratton and Butz-Brown are scheduled to participate in the second annual San Diego Arts Festival, one part of their business plan, both said.
Last year, the festival brought in more than 200,000 attendees and more than $1 million in revenue, said Warren Cook, the festival's producer.