Prop. 71 May Make S.D. a Stem Cell Research Mecca
Monday, November 8, 2004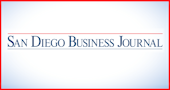 Now that California voters approved an unprecedented $3 billion bond measure to pioneer stem cell research, local scientific community leaders are swiftly jump-starting their efforts to try to make San Diego a hub for cutting-edge science.
Proposition 71, which carried 59 percent of the vote on Nov. 2, creates the California Institute for Regenerative Medicine, which will float $295 million a year to fund 10 years of research from state bond proceeds.
A local campaign to create the institute in San Diego is already under way, said Joseph Panetta, the president and chief executive officer of Biocom, the local life sciences trade group.
Four major local research institutions , UC San Diego, the Burnham Institute, the Scripps Research Institute and the Salk Institute , plan to join forces to gain a competitive edge in winning large grants to expand their stem cell research, said Dr. Leon Thal, the chairman of the Department of Neurosciences at UCSD School of Medicine and a clinician at the VA Hospital.
Thal noted there are preliminary talks whether to seek funding to build a new facility in San Diego dedicated to non-federally funded stem cell research.
The reasoning behind that is that "Most institutions don't want to mix federal and no-federally funded funds in the same facility," he said.
Until last week, there was no state funding for stem cell research.
Federal grants were limited to a few of what scientists consider "outdated" cell lines created before President Bush imposed a ban on the research in August 2001.
"Some people are working with the approved cell lines in San Diego," Thal said.
The Salk Institute runs a small stem cell facility built with non-federal funds.
But it won't be adequate to support the new stem cell enterprise scientists are bracing for.
Taking The Lead
Panetta and UCSD leaders are confident that San Diego, which is already on the map as a world-class research and biotechnology center, will take the lead in stem cell research.
The uniqueness of embryonic stem cells is that they are capable of becoming almost any type of cell and are self-renewing in the body or the laboratory.
As such, they hold promise for a wide array of disease therapies by creating new healthy tissue that may be used to repair cells, such as in spinal-cord injuries or replace damaged cells such as in Alzheimer's disease.
"It is not realistic to expect stem cell biology to bring new therapies into the clinic tomorrow, but if we don't begin now, we only delay the opportunities made possible by this new approach to understanding and treating human disease," said Dr. Edward Holmes, the vice chancellor of Health Sciences at UCSD.
Controversial Research
The research, though, remains controversial, because the cells are obtained from a blastocyst, which is a young embryo containing about 250 cells.
People expect that the restrictive federal policy on embryonic stem cell research is likely to continue with the re-election of the president.
The president and most religious conservatives reject the research as immoral.
The passing of Proposition 71 fills the financing void left by the president, but some people point to other gaps, including legislative oversight and accountability.
Panetta said on Nov. 3 that the legislation calls for the creation of an oversight committee within 40 days and the appointment of a chairperson within 45 days.
Biocom is working with the San Diego Regional Economic Development Corp., the San Diego Regional Chamber of Commerce, and Connect to lobby for local representation on the 29-member board.
The chairperson will play the most important role, according to published reports.
Among the chairperson's many responsibilities are approving grants and loans, guiding the institute's financing, dealing with the California Legislature and Congress, and leading negotiations for intellectual property agreements, the report said.
Thal projected it won't be until 2005 before the university can expect funding.
Nobody knows which diseases will actually be funded and how much funding institutions can expect, he said.
Marye Anne Fox, the new UCSD chancellor, also said that "it's too early to tell exactly how the University of California will participate in the new institute" and how it will benefit.
"It is safe to say that this new investment will advance stem cell research at UCSD and other UC campuses," Fox wrote in a Nov. 3 statement.
Besides attracting stem cell researchers to UCSD, companies interested in that field are also likely to relocate here to be near the research talent, she said.
Fox did not want to speculate on the potential payoffs for the university from licensing technologies to venture-backed startup companies and technology transfer agreements. That process takes years.
Some opponents have raised concerns about the fiscal impact of Proposition 71 -- with interest, the measure will cost Californians $6 billion over 30 years.
Others said that venture capitalists who were unwilling to bet on stem cells, now let taxpayers take the risk, but cash in when products get developed.
The big test will be whether embryonic stem cells will live up to their promise.
Michael J. Fox, who has been diagnosed with Parkinson's disease, has come out in support of the measure to help himself and others afflicted with diseases for which there are no good treatments.