Lindbergh Field Revenues Continue to Climb
Monday, November 8, 2004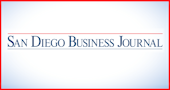 Financial results comparing two similar quarters during which the San Diego County Regional Airport Authority had control of Lindbergh Field are up and have exceeded projections.
Because of increases in passenger demand, landings and takeoffs, concession sales and passenger fee collections, operating revenue for the first fiscal quarter, ended Sept. 30, rose to $28.4 million vs. $23.8 million for the like quarter last year, said Vernon Evans, the agency's treasurer and vice president of finance.
The figure had been projected at $27.2 million for the recent quarter, he said.
"For the first quarter, net income before capital (expenses) and debts was $11.2 million and we had projected $8.9 million, so we're $2.2 million to the good," he said. "And last year, we had only $9.1 million net income before capital and debt service."
Earnings from the agency's investments, which had a book value of $121.6 million at the end of the fiscal quarter, were $480,195.
Created in 2001 by the state Legislature and charged with the task of recommending a new airport site, members of the agency took office in December 2002. The site recommendation is to be made in time to go on the countywide ballot in 2006.
Meanwhile, demand for air travel to and from Lindbergh has reached a level higher than before the terrorist attacks of Sept. 11, 2001, and will likely spur the need to add more gates, said agency Chairman Joe Craver, the chief executive officer of Galaxie Management.
"A new master plan for improvements is coming through the operations committee, so we've not been briefed yet," Craver said. "And it's up to the board, so I can't speak officially. But there is very definitely a need for additional gates."
Without a completed plan, there are no cost estimates for building new gates.
But an earlier projection for adding 10 at Terminal 2 placed the figure at about $100 million.
According to the agency's most recent air traffic report, the passenger count for domestic and international flights rose 7.3 percent to 12.4 million for nine months ending in September, compared with the same period in 2003.
"It follows logically that as the region grows, so will demand on the airport, and we've already been briefed that, in the long term, in 15 to 20 years, it could reach 36 million passengers a year," Craver said.
Realistically, if voters approved a site recommendation in November 2006, it could take 15 to 17 more years before a new airport would be up and running, Craver added.
But there's a balancing act involved in meeting projected air traffic demand at Lindbergh.
"There will be a point of diminishing returns, because if you keep adding gates, you exceed the capacity of the single runway," Craver said. "You have to be careful."
As John Chalker, managing director of LM Capital Group and chairman of Alliance in Support of Airport Progress in the 21st Century, known as ASAP 21, pointed out, the increased passenger count at Lindbergh Field reflects an overall improvement in the nation's economy. But Lindbergh, nevertheless, is seeing higher numbers than other major airports across the country.
"Year over year, demand at airports nationally is up about 2 percent to 3 percent," Chalker said.
But he doesn't expect that increased demand at Lindbergh Field will continue at the current rate of 7 percent.
"I expect it will slow to a more normal rate of 2 percent to 3 percent," he said.
He didn't say when he thought the pace would ease up. But he doesn't expect there will be enough demand to keep Lindbergh Field open if and when another airport is in operation.
"There is nothing in the marketing studies we've seen, or comparisons with other cities having two airports, to show that San Diego could support two airports simultaneously," Chalker said.
Meanwhile, the agency has nine sites on its list of possibilities: Miramar Marine Corps Air Station, an undeveloped tract of east Miramar, Camp Pendleton, North Island Naval Air Station and March Air Reserve Base in Riverside County , all of which are active military installations. A site in the Imperial County desert and areas near Campo and Borrego Springs have also been identified.
But an additional option is to expand Lindbergh itself.