Developers Look North For Available Property
Monday, November 1, 2004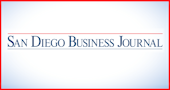 With a dwindling supply of land in the center of the region, office and industrial development is booming in North County.
Developers have hundreds of acres in various stages, from entitlement to construction, according to local commercial real estate brokers. The coastal cities of Oceanside and Carlsbad have the most land of all North County cities available for industrial and office development.
Jim Spain, the managing director of Colliers International's Carlsbad brokerage office, said, "The supply of industrial land in the North County has been greater in the last couple of years than the rest of the county."
Once the business parks currently planned are completed, Spain said there will be no place left in North County for companies to expand or relocate.
One of the few locations in San Diego County with more land is Otay Mesa, which has a few thousand acres available.
However, David Onosko, a senior vice president at Coldwell Banker Commercial-North County Properties, said Oceanside is attractive because it is close to Los Angeles, Orange and Riverside counties, in addition to the city of San Diego.
Onosko markets property in the Ocean Ranch Corporate Center, a 400-acre business park master-planned by Orange County developer Stirling Enterprises.
Ocean Ranch has 1.2 million square feet of speculative office and industrial
development, as well as 566,000 square feet of build-to-suit facilities planned and under construction. An extended-stay hotel and retail are planned in later phases.
Dougall Agan, a principal at Stirling, said, "The diversification that we've been able to achieve has been the key driver in our success."
The business park has offered a variety of buildings, including multi-tenant rentals, small for-sale buildings and large build-to-suit facilities. Developers and businesses have purchased or are in escrow to buy the last sites in Ocean Ranch, Agan said.
Stirling is considering development on other sites in the county, but Agan could not pinpoint exact locations yet.
"We're always looking for opportunities to expand out real estate business, especially in markets we've done master-plan development in," he said.
According to Colliers, there is 1.24 million square feet of industrial space under construction in North County and 2.85 million square feet planned. The office market has 300,000 square feet under construction and 1.15 million square feet planned.
Lee & Associates brokers Larry Strickland, Shane Strickland and Rusty Williams are marketing the 152-acre Pacific Coast Business Park in Oceanside for a group of three developers , the Monarch Group of La Jolla, DWO Enterprises of Solana Beach and Guthrie Development of Orange.
The $250 million business park will have 1.85 million square feet in small to midsize buildings for sale, multi-tenant facilities for lease, and build-to-suit projects.
The developers expect to begin construction in March or April, building out the business park within three to five years. Leasing for multi-tenant buildings will begin in mid-2005.
"Our market is real diverse in that it covers all (size) ranges," Larry Strickland said. "We're not a big distribution market where you only build 500,000-square-foot buildings."
Spain is marketing Oceanside Gateway for Bkm Development LLC of Costa Mesa. The 37-acre business park is comprised of small buildings for sale and a few facilities for lease.
"Larger buildings were a little slow (to lease up) in the last couple of years so developers are trying to meet demand (for smaller buildings)," Spain said.
Lee & Associates is also working on a project with several small buildings for sale. The 300,000-square-foot second phase of the Sycamore Vista Business Center in Vista broke ground last week with commitments in place for half the buildings. Larry Strickland said the park's 150,000-square-foot first phase sold out before construction was completed.
Henry Zahner, a vice president in the Carlsbad office of Colliers International, said there are only a handful of sizable business parks with vacant land left in North County, including Ocean Ranch and Oceanside Gateway; the 132-acre Bressi Ranch Corporate Center and 51-acre Palomar Concourse in Carlsbad; and the 186-acre Escondido Research and Technology Center.
"Two years ago, we were running out of lots," Zahner said.
Land in North County is now edging up as high as $20 per square foot , $5 more than that area has seen before, he noted.
Greg Hamann, the president of finance for El Cajon-based Hamann Cos., said the general contractor and developer has no plans to buy land in the short term because the price of land has gone up significantly.
The company wants to finish projects in Ocean Ranch before it invests in more development sites, Hamann said. The Hamann Cos.' main line of business is construction, but the company got into development at the request of clients that needed help finding a location and developing business facilities.
The general contractor purchased 30 acres in Ocean Ranch a few years ago and now has developed or is a partner in more than 100 acres, including 26 acres planned for development with Stirling Enterprises.
"We believe you can build quite a lot of supply and not have an oversupply (of space)," Spain said.
All of the space won't hit the market at the same time, he said, noting that many buildings are being purchased rather than leased.
"Certainly with all of this space coming, you're going to see vacancy rates rise somewhat," Spain said. "It won't be lasting enough to sound off the alarm."