People on the Move
Monday, May 31, 2004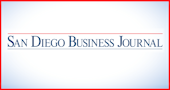 People on the Move
Banking and Finance

Union Bank of California announced that Mary Allis Curran has been promoted to market president, overseeing commercial banking for San Diego and Orange Counties. Curran joined the bank's San Diego office as vice president and business banking team leader in 1989. A.G. Edwards and Sons, Inc. announced that Jeffrey R. Liber has been named vice president of investments. Liber also holds the title of trust specialist, reflecting his special training to assist investors with living trusts, irrevocable life insurance trusts, legacy trusts, and special needs trusts. Brian Surratt has joined the tax department of Lavine, Lofgren, Morris & Engelberg, LLP. Surratt will be working in the firm's tax department for multi-state corporations and owners. Jennifer Mulholland has also joined the tax department of Lavine, Lofgren, Morris & Engelberg, LLP. Prior to joining the firm, Mulholland was an intern for the firm and for Sempra Energy.

Construction and Design

O'Connor Construction Management announced the hiring of Gary Pottberg as senior cost estimator. In his new position, Pottberg will estimate the cost of electrical and mechanical systems designed by O'Connor clients. Randal Peterson of HMC Architects has been promoted to the position of fellow in the American Institute of Architects, one of the industry's highest honors, for his work on behalf of students in underserved San Diego County communities. Moon Mayoras Architects announced that Jim Daly has been promoted to vice president and Julia Cousins has been promoted to associate. Julian Boswell has joined Architects Delawie Wilkes Rodrigues Barker as a project manager. In his new position, Boswell is responsible for intranet development and interactive media design, including three-dimensional modeling and animation.

Education

Thomas R. Cleary has joined UCSD as director of community and government relations. As a public relations consultant for the last three years, Cleary's clients have included nonprofit organizations, local and state agencies, as well as private sector interests.

High-Tech and Manufacturing

Rick Paul has joined HK Plastics Engineering, Inc. as production manager. Paul brings more than 15 years of production experience to the firm.

Law

Three trial lawyers are leaving the San Diego office of Gray Cary Ware & Freidenrich and joining Morrison & Foerster as partners in the firm's San Diego office. They are: Don G. Rushing, a 25-year litigation veteran who has tried or arbitrated more than 60 cases in his career; Mark C. Zebrowski, who has practiced in San Diego for more than 20 years, successfully defending the San Diego Padres in recent suits seeking to block the construction of Petco Park; and James W. Huston, a former U.S. Navy officer and naval flight officer who has built a trial practice defending major airlines and aviation manufacturers in accident and contract litigation.

Media & Marketing

Public Policy Strategies announced the promotion of Scott Maloni to vice president of public affairs. Maloni is a senior communications specialist with ten years of experience in media relations, government relations, and national and local political campaigns. Public Solutions announced that Gina Clark-Bellak has joined the firm as director of public policy. Clark-Bellak, an attorney, brings years of experience in government relations and environmental and land use planning for both the private and public sectors. Cheri Reeves has been named a project coordinator with the San Diego Radio Broadcasters Association. Previously, Reeves worked as an executive assistant with Clear Channel Communications. Athletic Appearance announced the hiring of Brendan Nicholas to their professional sports publications division. Nicholas will be responsible for marketing to local and national companies to advertise in their NFL, NBA, NHL, MLB, and NCAA yearbooks and game day publications. UP, Inc. has appointed The Ryness Co. to head sales and marketing efforts for its three Hillcrest properties. Joe Riley has been named sales manager, with Steve Van Deusen as senior sales associate.

Miscellaneous

Logo Expressions Inc. has promoted Frank Tecca to e-commerce sales manager. Tecca has been with the company for more than two years and started as a consultant after getting his MBA from California State University, San Marcos. The Asian Business Association announced that Lani Lutar has been named executive director. With in-depth experience in business development, marketing, and public relations, Lutar will help ABA expand membership and enhance programming to better serve members. AA Printing announced the addition of James P. Graves, III as a partner. Graves brings to the company more than 14 years experience in the printing industry. Solomon-Page Group LLC announced the addition of Thomas M. Murphy as vice president of the life sciences division. Prior to joining the life sciences division, Murphy spent five years as executive vice president at R.J. Watkins & Co., Ltd.

Real Estate

Coldwell Banker Commercial-Towne Centre announced the addition of Ron Graves as their new vice president at the Towne Centre office. Graves' responsibilities include a variety of commercial transactions, with a primary focus on shopping centers, retail leasing, and site selection. Grant Silva has joined the Carlsbad office of GVA IPC as an associate. In his new position, Silva is responsible for broker activities within the company's investment properties division. Brandon Holmes has joined RE/MAX Professionals in San Marcos as a real estate sales agent. Previously, Holmes worked as a loan officer and real estate Web designer. Lela Hankins and Leo Orzhel have also joined RE/MAX Professionals as real estate agents. Previously, Hankins worked in the pharmaceutical industry as a sales trainer, sales manager, and sales representative. Orzhel was previously with another real estate sales company. Yuko Hudson has joined RE/MAX Associates' Mission Valley office as a newly licensed real estate sales agent. Previously, Hudson worked as a recruiter for an accounting firm and also operated an English school in Tokyo. Ken Ingersoll has been appointed sales manager at Lake Park Villas. Previously, Ingersoll was selling a new-home community represented by Home Builders Marketing Services.

Compiled by Patti Strickland



Executive Spotlight: Sharon Massey



Sharon Massey has been promoted from director of marketing to executive director for the San Diego Radio Broadcasters Association (SDRBA). With 25 years of experience in the local radio industry, Massey succeeds Tammy Shushan, who retired after serving as SDRBA executive director for the past 17 years. Massey joined SDRBA in July 1997, after working as an independent sales consultant for three years and as an in-house sales executive for 16 years with KFMB-AM and KFMB-FM. In 2002, Massey was honored with the Paula E. Sullivan Award for outstanding career achievement from the San Diego Advertising Club after she helped establish the San Diego Advertising Fund for Emergencies (SAFE), a nonprofit organization that provides financial assistance on a confidential basis to persons who work in advertising-related jobs and are facing a life crisis. Massey has lived in California since 1967 and has a bachelor's degree in psychology and child development from San Diego State University.



Awards & Recognitions

Ranie Hunter, vice president of The Otay Ranch Co., has been honored with the Golden Triangle of Distinguished Service Award from the YMCA of San Diego County. The South Bay Family YMCA nominated Hunter, for her 12 years of volunteer work. John Lundin has been ranked among the top 100 RE/MAX sales agents in the state for year-to-date sales volume through March 2004. Now in his fourth year of real estate sales, Lundin ranked No. 68 out of more than 9,700 RE/MAX sales agents affiliated with about 366 offices in California. Pardee Homes' Vice President of Marketing Joyce Mason was named the B.J. Stewart Award winner at this year's Major Achievement in Marketing Excellence Awards. The B.J. Stewart Award recognizes women who have contributed greatly to the Southern California community through generous donations of time and expertise on behalf of the building industry and charitable causes. Linedotbox recognized San Diego's top designers at its second annual awards reception, "Greenlight." The overall Greenlight design award went to the design team of Deniece Duscheone, project manager at Tucker Sadler Noble Castro Architects, and Chris Maresca, job captain at HMC Architects. The Natural Sciences Building at UCSD has won two design awards from the San Diego chapter of the American Institute of Architects. The building received one of the three Honor Awards, AIA's highest prize, and the Energy Efficiency Integration Award. The Leads Club, La Mesa chapter, has chosen Tanya Long as their Leader of the Year. Fellow members honor one individual in each of the more than 300 chapters nationwide and in Australia for outstanding chapter support and business lead contributions. The International Community Foundation has awarded its Donor of the Year award to Dr. Robert and Joyce Chang for their efforts in improving education for both rural and migrant schoolchildren in China. Since 1999, the Chang's have supported the funding of more than 31 rural schools in China and have allocated funding to support scholarships and teachers' awards for migrant schools in Shanghai. Attorneys Association named Rick Clabby the 2003 Prosecutor of the Year. The Outstanding Achievements Awards went to Deputy District Attorney Michael P. Runyon, Patrick L. Espinoza, and Valerie R. Summers. District Attorney Investigators Philip R. Sowers and Larry Davis were recognized as Investigators of the Year. The Edwin L. Miller Jr. Lifetime Achievement Award went to recently retired Chief Deputy District Attorney Louis E. Boyle.