Otay Mesa's Industrial Land Supply Tightens
Monday, July 12, 2004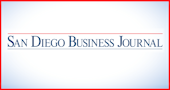 Otay Mesa's Industrial Land Supply Tightens
Real Estate: Short Inventory, Stiff Approval Process Helping to Drive Prices Higher
BY MANDY JACKSON
Contrary to all appearances for anyone driving east on state Route 905, there is a short inventory of land readily available for development in Otay Mesa.

Paying close attention to the remaining supply, commercial builders want to be sure there's enough room for businesses to grow. At the same time, home builders want to rezone some industrial sites to meet the growing demand for homes in San Diego County's high-priced housing market.

Those pressures, plus an improving manufacturing industry in Tijuana and housing growth in the South Bay are increasing demand for the small amount of land that's available and causing prices to rise sharply.

Excluding Brown Field, parcels that may be rezoned for housing, and land for roads, parking and existing buildings, only 146 acres in Otay Mesa within San Diego city limits will be ready for industrial development through the start of 2006, said Rich Kwasny, a vice president at commercial real estate brokerage CB Richard Ellis.

"You drive down there and all you see is land," Kwasny said.

However, it takes two to two and a half years to win city approvals to develop land, prepare it for construction, install utilities and build roads, curbs and sidewalks. A majority of the 3,000 acres in Otay Mesa that lie in San Diego County is further from being ready for development.

Only 46 acres within the city is available for development today, Kwasny said. He said an additional 29 acres will be ready by the end of the year. However, 80 to 90 acres of industrial land is usually sold in Otay Mesa each year.

"We're woefully short of demand," Kwasny said.

Costs Skyrocket

Kwasny and CB Richard Ellis colleagues Shane Harmon and Rob Hixson brokered the sale of 16 acres to Foster City-based Legacy Partners Commercial in the master-planned community of Ocean View Hills for $6.30 per square foot in December. Now, the property owner, Los Angeles-based Pardee Homes, is asking $9.25 per square foot. That amounts to a 50 percent increase in about six months.

"It went from $6 and $7 (per square foot) to $9 like someone just snapped their fingers," Kwasny said.

Despite the effect on prices, Kwasny said it is good to convert some industrial land to residential because it could help offset the county's housing shortage.

San Diego senior planner Maxx Stalheim said Otay Mesa is about 9,320 acres in total, about 3,000 of which is under the county's jurisdiction. The city is revising its community plan for Otay Mesa, and it is expected to be complete by late next year.

Plans under review require the rezoning of 765 industrial and commercial acres for housing in six neighborhoods. Stalheim said the city is studying the impact of truck traffic, noise, odors, dust and other issues created by industrial facilities, as well as housing's impact on businesses.

"It's a trade-off. Right now, we're in a housing crunch and we need housing. Ten to 15 years from now, we may need land for employment. We have to do an economic impact analysis to gauge that," he said.

Dave Nielsen, the president of San Diego-based MNA Consulting, is coordinating the Otay Mesa Planning Coalition, a group of six builders that want to construct homes in Otay Mesa.

"The Otay Mesa community plan is way out of date. Even in areas planned for residential, they had to have a plan amendment to reflect current conditions," Nielsen said.

Land zoned for a high school had to be converted to residential because San Ysidro High School had already been built next to it.

Of the six new residential neighborhoods builders are planning, Nielsen said two are on sites already designated for homes, three are on industrial land and one is on commercial property. The developments would offer houses, condominiums and apartments.

"There's a housing crisis in San Diego. There is a large supply of industrial land in the city, county and south Chula Vista," Nielsen said, adding that some commercial property can accommodate housing.

Alejandra Mier y Teran, the executive director of the Otay Mesa Chamber of Commerce, said the chamber is keeping a close eye on housing developments in industrial areas, especially those on busy truck routes.

Trucks waiting to cross the border line up along La Media Road. Businesses are concerned that residents needing to use that road would complain about the truck traffic, Mier y Teran said, causing a carefully planned truck route to be altered.

"Some (residential developments) certainly do make sense," she said. "Our board doesn't believe anything should be south and east of Brown Field."

Patti Krebs, the executive director of the Industrial Environmental Association, a San Diego-based manufacturing trade organization, said, "Our main concern is that San Diego is losing large quantities of its industrial land to nonindustrial uses."

Krebs added: "If there are older areas of the city where industrial is no longer appropriate, we should look at those sites individually. But, no one is keeping a count of the job-producing lands we're losing."

Manufacturing in San Diego County has been on the decline. However, Krebs said biotech and related firms will move past research and into manufacturing in the near future.

Additionally, environmental technology manufacturers are expanding, and high-tech firms need land for various operations.

"We would like (those jobs) to stay in San Diego," Krebs said. "The dilemma is that you want to accommodate housing for your work force. But, you have to have a location for your operation first."