Pilot Program at SDSU Offers Dual Ph.D.-MBA Degree
Monday, February 9, 2004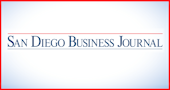 Pilot Program at SDSU Offers Dual Ph.D.-MBA Degree
Focus Is on Students Wanting a Career in Life Science Management
BY MARION WEBB
Chances are when Mina Stemm graduates with her dual Ph.D.-MBA degrees from San Diego State University, she'll be a hot commodity in the drug making business.

The fifth-year doctoral student in molecular biology is working on her Ph.D. by day while taking business classes at night.

By the spring of 2005, the 27-year-old graduate student expects to jump-start her career in biotech.

"I decided to join the Ph.D. and MBA program, because I knew it would be extremely valuable for biotechnology and big pharmaceutical firms," Stemm said.

Stemm is one of two students participating in a pilot study for the dual Ph.D.-MBA degree program offered at SDSU.

Rolled out last fall, the program is geared toward scientists eyeing a life sciences management career, said Gail Naughton, dean of SDSU's College of Business.

Naughton, a trained scientist who co-founded and led the now-defunct biotechnology company Advanced Tissue Sciences in La Jolla, said San Diego's thriving biotechnology industry will reap the benefits from having scientific minds who also understand the business of biotechnology.

The biotech sector is unique, because it depends on investors' willingness to funnel hundreds of millions of dollars into unproven scientific projects. Then there are the complex regulatory and clinical requirements put forth by the Food and Drug Administration.

"The MBA for life sciences will be a tremendous benefit to businesses, (because) students will be very much versed in case studies , (they'll) know the regulatory and intellectual property piece , and the best method (to acquire) funding," Naughton said.

Having these skills saves time and money.

"If we could all cut off a year in product development, we're talking hundreds of millions in dollars (in savings)," she said.

Corporate Support

Naughton has won the support of two local biotech firms, Invitrogen Corp. and CardioDynamics Inc., and drug giant Pfizer Inc., which runs a research campus in La Jolla, to bring their "real-world" applications into the classroom.

In addition, Invitrogen and Pfizer each gave $10,000; CardioDynamics donated $5,000.

Naughton hopes to raise another $50,000 to bring in two or three more students this fall.

The money helps support them.

"Normally Ph.D.'s earn a stipend through teaching," she said. "These students will be paid for doing internships at biotech companies."

Naughton praised Gregory T. Lucier, president and chief executive of Invitrogen for working with the faculty to build a biotech-relevant curriculum and his commitment to lecture.

Lucier, who earned his MBA from Harvard and holds an engineering undergraduate degree, will speak to students next month.

The following month, students will visit Invitrogen to learn about best practices of product development and customization.

Lucier said the program fills a critical need. "One of the biggest challenges in our industry is attracting candidates who have the skill to envision functional applications for cutting edge research," Lucier said.

UC San Diego, known for first-class research, medicine, and spun-out technologies, has thus far lacked a business component. But a new business school seeks to bridge that gap.

Robert Sullivan, the founding dean of UCSD's Rady School of Management, said its new part-time MBA program is customized for professionals working in the local life sciences and high-tech sectors.

"Those individuals are of specific interest to us, because it's the backbone of our economic transformation that has occurred in San Diego and is our future too," Sullivan said.

The first class of 65 students starts this fall.

Most are financially supported by their employers , Qualcomm Inc., Gen-Probe Inc., and Amylin Pharmaceuticals Inc.

All subsidize students' tuition ($9,000 a quarter), he said.

Sullivan also wants to mirror SDSU's efforts of a combined Ph.D.-MBA program.

He's also talking to the Scripps Research Institute of Oceanography about a joint master's and business degree program.

And he wants to team up with other UCSD departments and the medical school.

SDSU and UCSD are both working on full-time MBA programs for biotech-minded professionals, to be launched in the fall of 2005.