Sprint-Nextel Deal a Boon to Qualcomm
Monday, December 20, 2004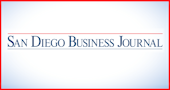 Wireless technology supplier Qualcomm Inc. may benefit from a merger of Sprint and Nextel Communications, Inc. if their $35 billion deal closes as planned.
The wireless telecom carriers made it official last week, saying they would form a new company called Sprint Nextel.
If the two carriers fold their networks together, the combined company would likely use the Code Division Multiple Access technology already in place on the Sprint network.
Code Division Multiple Access, abbreviated CDMA, is San Diego-based Qualcomm's bread-and-butter technology. Qualcomm makes microchips for CDMA telephones and base stations. It also collects royalties and license fees on its wide-ranging CDMA patent portfolio. Generally, Qualcomm gets a percentage of a handset's selling price.
CDMA technology breaks up radio spectrum so many people can place cell phone calls using minimum amounts of spectrum , which is a limited resource for wireless carriers.
Sprint and Nextel "have been strong Qualcomm partners, and we are confident that the combined company will continue to help expand the 3G CDMA market here in the United States," said Qualcomm spokeswoman Bertha Agia. The term "3G" refers to an advanced, third-generation form of CDMA.
"We think (the merger) is a positive thing for the industry," said Christina Asmar, spokeswoman for Ericsson's CDMA infrastructure unit in San Diego.
Ericsson is actively pursuing business with the merged company, Asmar said.
The Sprint Nextel deal is far from sealed. Shareholders have yet to approve it; state and federal regulators must approve it as well. The deal could close in the second half of 2005.
Sprint, based in Overland Park, Kan., uses CDMA now. But its new partner, Nextel, based in Reston, Va., uses a different technology, dubbed Iden.
One detail that is unclear is how those technologies will be integrated.
Nextel's Iden phones are reminiscent of walkie-talkies. They use a technology called "Push to Talk." That phrase is technically a service mark of Nextel.
Qualcomm has developed a CDMA walkie-talkie technology called QChat. Agia said Qualcomm and Nextel have a "standing agreement" about QChat.
"Sprint Nextel's plans include migrating over time Nextel services, including push-to-talk service, to Sprint's CDMA EV-DO network," said the combined Sprint Nextel announcement.
Still, one published report said Sprint Nextel may preserve the Iden network for customers who want that particular push-to-talk service. Some rate Nextel's walkie-talkie technology as superior to the CDMA-based walkie-talkie technology. Qualcomm's Agia said she has heard the assertion before.
The technology called EV-DO includes the voice capabilities expected from a telephone, but also emphasizes the speedy transfer of data , pictures, e-mail and more , to and from the handset.
Verizon Wireless, a competitor not involved in the merger, currently markets high-speed EV-DO service under the name "Broadband Wireless."
Sprint is on track to roll out EV-DO in some of its existing markets as early as the first quarter.
The merged company would build on top of Sprint's efforts.
Analysts from Minneapolis-based Piper Jaffray & Co. said they met Dec. 14 with top executives of several companies that work in CDMA , including Qualcomm's Paul Jacobs and Ericsson's Mats Granryd.
A Piper Jaffray research note issued Dec. 15 said Qualcomm executives "indicated the potential Sprint/Nextel merger is positive for Qualcomm, as it likely accelerates Nextel's technology roadmap to CDMA and increases the CDMA addressable market."
"I don't see any short-term major changes in demand for CDMA handsets, given that Nextel handsets operate on the Iden network," said David Linsalata, an analyst with Massachusetts-based IDC. "Long term, however, this could change, especially if Sprint migrates the majority of Nextel customers over to an EV-DO network of some sort."
Shares of Qualcomm closed Dec. 16 at $43.45.