Some Shoppers Shut Out the Day After Thanksgiving
Monday, December 6, 2004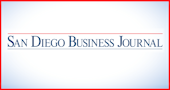 Shoppers who were able to get to their favorite stores on "Black Friday" , the day after Thanksgiving, the busiest shopping day of the year and the official start to the holiday shopping season , found that retailers were very busy Nov. 26.
However, parking lots appeared to be full shortly after the malls opened, keeping shoppers from spending money at some stores.
When I stopped in the Catherines store at Westfield Shoppingtown Parkway in El Cajon to purchase a gift a day after Black Friday, a clerk there said business was very slow on what is generally considered the busiest shopping day of the year.
The clerk said Catherines' customers couldn't find a place to park. The Bensalem, Pa.-based retailer, which sells women's clothing, is in a strip center that's part of the Parkway mall property but detached from the main mall structure and parking garages.
A Westfield Shoppingtown spokeswoman said the Australian mall owner had extra security personnel and additional signs at each of its malls on Black Friday to direct shoppers to empty parking spots. Store employees parked elsewhere to make way for customers.
- - -
Charge It: Credit card giant Visa said its customers charged or used debit cards for $4.1 billion in purchases on Nov. 26, representing a 15.5 percent increase from the day after Thanksgiving in 2003.
Sales were divided among discount, mass apparel and drugstores (15.7 percent), home and garden shops (15.6 percent), department stores (15.7 percent), travel and entertainment (12.9 percent) and e-commerce (28.1 percent). The biggest increases over last year were in the top three categories. Sales at specialty retail outlets were flat compared to last year.
"Based on the sales we witnessed Friday and the steady growth in Visa volume over the past three weeks, merchants should be feeling more in the holiday spirit than in years past," said Wayne Best, the senior vice president for strategic economic analysis for Visa USA, in a media release.
"Consumers aren't procrastinating this year. They began their holiday shopping in early November and hit the malls in force on Black Friday," Best added.
- - -
Military Benefits: Capitalizing on a unique seasonal marketing opportunity, Mossy Nissan is again the sponsor for holiday programs from the U.S. Navy's Morale, Welfare and Recreation Department, which includes free shuttle services for active-duty military personnel from five local military stations to airports, train stations, bus terminals, malls and movie theaters through Dec. 24.
Brake Depot is offering a free oil change to military personnel and their families through Jan. 1 at all 12 San Diego County locations.
- - -
New Dealership: San Diego-based Sunroad Automotive has started building a third local car dealership.
Sunroad operates Pacific Honda and Kearny Mesa Ford in Kearny Mesa.
The company broke ground for its 52,000-square-foot Toyota Chula Vista on Nov. 29 on an 8-acre site at Deniso Court and Main Street off Auto Park Drive. Set to open in the fall of 2005, the dealership will stock more than 500 new and used vehicles.
It is set to be a prototype for all new U.S. Toyota dealerships with separate merchandising areas for the Toyota and Scion brands and larger service areas. Sunroad will open an associate dealership in Tijuana in January as part of the Chula Vista franchise.
- - -
More Tacos: Seattle-based Taco Del Mar plans to open its first San Diego County location on Dec. 9 in Poway's Stowe Plaza.
John and Bertha Boyken of A Better Life Franchise Development LLC will operate the taco shop.
Taco Del Mar is a privately held chain with 110 stores in the western United States. It serves fish tacos and other Mexican fare in surf shop-themed restaurants.
Chuck and Becky Colgan of Colgan Family Enterprises LLC in Encinitas are negotiating a lease for a franchise in Vista.
Stacey Clark of Prosperity Franchise Inc. plans to open a Taco Del Mar in Carmel Mountain Ranch or Sabre Springs.
- - -
Making Progress: St. Louis-based Panera Bread is one-third of the way toward meeting its goal of opening 15 restaurants in San Diego County.
The bread and bagel store and soup and sandwich restaurant opened its fifth location here Nov. 22 in the Creekside Marketplace shopping center in San Marcos.
Other stores are in Mira Mesa, Carlsbad, Escondido and Vista. Patrick Rogers is the operations manager for all five restaurants.
Send retail news to Mandy Jackson via e-mail at mjackson@sdbj.com or via fax at (858) 571-3628. Call her at (858) 277-6359, Ext. 3114.