Bill to Increase State's Minimum Wage Passes
Monday, August 30, 2004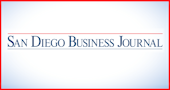 Bill to Increase State's Minimum Wage Passes
San Diego Business Urges Consumers to Give Gift of Sushi
SMALL BUSINESS
by Lisa Kovach, Staff Writer
California's minimum wage may increase from $6.75 an hour, $1.60 above the federal rate of $5.15, to $7.25 an hour in 2005.

Assembly Bill 2832, which would give California the highest minimum wage in the nation by gradually increasing to $7.75 by 2006, is one step closer to coming to fruition after being passed by the Senate 22-13 on Aug. 19.

The National Federation of Independent Business, the largest small-business advocacy group in the nation, said that increasing minimum wage affects small businesses and the economy as a whole.

Oregon, Washington and Alaska all have higher minimum wages and all consistently lag behind the rest of the nation in job growth and economic recovery, NFIB officials said.

"Yet, in spite of an avalanche of evidence and studies that show the negative consequences of tinkering with minimum wage, proponents of ever-higher minimum-wage rates have shamelessly, and all too often successfully, peddled it as some great boon to all the workers in the land," said Martyn Hopper, NIFB's state director, in a written statement.

The California Chamber of Commerce has labeled the bill a "job killer," stating that employer costs would rise by at least $2.08 billion annually.

The bill previously passed the Assembly by a 46-30 vote in May, but must still receive approval from Gov. Arnold Schwarzenegger.

- - -

Gifts of Sushi: Pink Confection, a San Diego-based business geared toward providing pampering gift products for women throughout significant milestones in their lives, has now introduced its line of pregnancy gifts aimed at sushi lovers. The line of baby socks, caps and washcloths are all created to look like something out of a sushi bar. One of its products, known as Sushi and Socky, contains two look-alike rolled pieces of sushi made out of three pairs of rolled socks. In the middle is a colored sock rolled inside of a white and then black sock. The gifts are then packaged in sushi take-out containers with the ingredients and net weight on the labels. Pick Confection established in 2002 is sold online and in more than 20 retail shops in the United States and Canada. For information, visit www.pinkconfection.com.

- - -

Buy a Business, Get a Loan: California Businesses for Sale will present "How to Get a U.S. Small Business Administration Loan to Buy a Business" workshop at 6:30 p.m. on August 30 at 300 Carlsbad Village Drive, No. 224, in Carlsbad. The workshop will cover all aspects of SBA loans and how they apply to purchasing a business. For more information, visit www.bizben.com.

Send small-business news to Lisa Kovach via fax at (858) 571-3628. Call her at (858) 277-6359, Ext. 3107.