Search Engine CEO Jammed With "The Boss"
Monday, August 2, 2004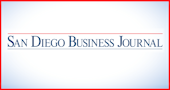 Search Engine CEO Jammed With 'The Boss'
A Former Guitar Player Behind Bruce Springsteen, Garry Grant Has Made Carlsbad Firm a Hit
BY MIKE ALLEN
Garry Grant has gone from backing up the Boss to being a boss.

Now the chief executive officer of Search Engine Optimization in Carlsbad, Grant once made his living as a rock guitarist in the house band at the legendary Stone Pony in Asbury Park, N.J., where he played with such luminaries as Bruce Springsteen, Bon Jovi and Sly Stone.

Although Grant says he loves his job these days building a growing Internet consulting firm, there's nothing that can compare to the feeling he got when backing up Springsteen, also known as "The Boss."

"Bruce would come on sometimes before or after his set (with the E Street Band), and ask to sit in with our band. He'd just get up there and shout to us, 'This is an E' (the key) and then yell, 'One, two, three, four,' and just go right into the song. I never had that kind of feeling ever in my life before or since with anyone else. He had an aura all his own."

Grant, 45, said he played in more than a dozen rock bands in the late 1970s, but the house bands at the Stone Pony were probably his peak experiences in the world of rock.

One of the bands, Lord Gunner, recorded two albums, but the records were never pressed. He did play on several albums that did get released, but after about 10 years in the business, he realized he needed to change careers.

Time to Leave Music

"I was about 32 or 33, and had gotten married, and had a child. I knew I couldn't depend upon other people anymore for my livelihood and I just decided to get out of music. It was very traumatic."

Grant got hired as a salesman for a large electronics retailer, Nobody Beats the Wiz, and within a few weeks, was promoted to sales manager. Within a year, he was promoted to run one of the chain's largest stores in Union, N.J.

"I was managing about 85 employees, and it was there that I first learned about how to run a company, and profit and loss," he said.

But Grant's dreams of making it in the music industry didn't die. He relocated to Los Angeles with the expectation of working as studio engineer for his brother-in-law, who ran a Burbank recording studio.

That job led to Grant's joining one of the first Web design shops, called Luck Man Interactive, where he learned about software design. Grant had some background in computers, having earned a bachelor's degree in computer science at Monmouth University in New Jersey.

The company collapsed when the owner ran off with most of the money, Grant said.

Shifting gears once again, Grant formed his own company in 1995 that specialized in custom Web site development and consulting. He called his business DAG Web Studios, taking the first letter of the names of his two children, Dalton and Amber, and his name.

While working as a Web site consultant, Grant soon realized that no matter how exciting and rich a site is, it might be all for naught if nobody sees it.

Distant Corners

One of the projects he worked on was a site called DistantCorners.com, containing previews of new movies.

"I saw a million dollars spent on flash movies for the DistantCorners.com Web site, yet it attracted almost no traffic," he said. "I realized how important search engines were and developed a business plan to help companies succeed in bringing high volume of visitors to their sites."

That business plan led to the launch of SEO, which is housed in Carlsbad, in 1997. Last year, the firm that helps companies increase visibility on Internet search engines such as Google, Yahoo! and MSN generated $1.9 million in sales. This year, Grant said the company is on track to reach between $4 million and $5 million in revenues.

"We've been growing very well over the past year, and hiring at an average of between two to three people a month," he said.

Total staff stands at 33 workers. Among the jobs being created at SEO Inc. are software programmers, Web site developers and site-architecture personnel. The company also has openings in sales, business operations and finance.

Employees at SEO reflect the diversity that is San Diego, says Grant, noting that among the languages spoken by his staff are Russian, Chinese, Portuguese, Turkish, German and Vietnamese.

When he has to unwind, Grant still plays guitar, and even jams occasionally with friends. He did a benefit concert recently to raise money to help pay for the medical costs of an ailing friend.

While things are definitely rocking at SEO these days, Grant doesn't hesitate when asked what career gave him satisfaction.

"We're in a zone now and doing well with this company, but can anything take the place of playing with Bruce Springsteen? No. That's magic."