Week in Review
Monday, September 29, 2003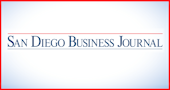 Week in Review
Top BUSINESS NEWS: September 19 - 25, 2003
First Water Deal Approval: The Los Angeles-based Metropolitan Water District became the first of four Southern California water agencies to approve a Colorado River water-sharing agreement Sept. 23.

The other three agencies the San Diego County Water Authority, Imperial Irrigation District, and the Coachella Valley Water District must decide if they will approve the Quantification Settlement Agreement by Oct. 12.

If approved, the deal would settle a yearlong battle between the four water agencies, the state, and the U.S. Department of the Interior. It would allow the County Water Authority to buy up to 200,000 acre-feet of water per year from Imperial, enough water to supply approximately 400,000 area households.

- - -

Price Legacy Reorganizing: Price Legacy Corp., a San Diego-based real estate investment trust, is reorganizing its capital structure and its senior management.

In a Sept. 22 filing with the Securities and Exchange Commission, Price Legacy said it would simplify its capital structure by exchanging common stock for Series A and Series B preferred stock. The REIT will pay Series A and B shareholders who reject the offer to exchange for common stock.

If all of the preferred shares are exchanged for common stock, Price Legacy will have 46 million shares outstanding. Stock in the company, which trades on the American Stock Exchange under the symbol XLG, sold for $3.67 per share on Sept. 24. Its 52-week range was $2.38 to $4.

Additionally, CEO and Co-Chairman Gary Sabin, Vice Chairman Rick Muir, and President and Chief Operating Officer Graham Bullick, have resigned effective Oct. 15 along with other managers.

The new management will be lead by Jack McGrory as CEO, Robert Siordia as chief operating officer, and James Nakagawa, who will continue as chief financial officer.

Former San Diego city manager McGrory will continue as Price Legacy's chairman. He is also a manager at The Price Group LLC, a securities and real estate investment company, and one of Price Legacy's principal stockholders.

Siordia also works for The Price Group.

- - -

Alvarado Administrator Arrested: The associate administrator of Alvarado Hospital Medical Center, which is owned by Tenet Healthcare Corp., has been arrested for obstruction of a criminal investigation and witness tampering as part of a larger federal investigation into illegal kickbacks at the East County facility.

Mina Nazaryan surrendered Sept. 22 before a federal judge in San Diego.

The U.S. Attorney's Office charged Nazaryan with taking money for arranging relocation agreements for three doctors from one family to Alvarado Hospital in La Mesa.

The indictment alleges the three doctors were guaranteed salaries ranging between $296,400 and $435,000 for one year. Additionally, two doctors received malpractice insurance.

The family of doctors reportedly told authorities that they paid Nazaryan about $80,000 "for her efforts."

In June, Alvarado Chief Executive Officer Barry Weinbaum was indicted on seven counts of offering and paying illegal remuneration and one count of conspiring to violate the federal ant kickback statute.

According to a 17-count indictment, Tenet and Alvarado spent more than $10 million to recruit doctors to the area with the understanding they would refer patients to Alvarado.

- - -

Davis Signs Stem Cell Bill: San Diego scientists, a local biotech industry representative, and patient advocates joined state Sen. Deborah Ortiz in celebrating Gov. Gray Davis' signing legislation to create an ethical and regulatory framework for stem cell research in California.

Stem cell research has the potential of yielding life-saving drugs for such chronic and debilitating diseases such as cancers and Alzheimer's and Parkinson's disease.

On Sept. 24, Davis signed two stem cell-related bills, SB 332 and SB 771, into law.

Ortiz, D-Sacramento authored both bills.

SB 332 requires the Department of Health Services, with the assistance of a Human Stem Cell Advisory Committee, to develop ethical and legal guidelines for stem cell research.

SB 771 creates a registry of usable embryos.

The legislation builds on law signed by Davis a year ago supporting all types of stem-cell research in California.

It flies in the face of President George Bush's order from August 2001 to restrict federally funded research to a limited number of stem-cell lines , scientists say only 11 of those lines are viable and accessible.

Funding, however, remains a challenge.

SB 778, which authorizes the issuance of a bond for the purpose of funding biomedical research facilities, and research grants or loans is stuck in the Senate Appropriations committee.

Ortiz hopes to move the bill next year.

- - -

TI Files Suit Against Qualcomm: Texas Instruments Inc. announced last week it had filed a lawsuit against Qualcomm Inc., alleging breach of contract.

A Qualcomm spokeswoman said the suit was without merit and the allegations far-fetched.

Qualcomm sued Texas Instruments July 25, alleging TI had breached a patent portfolio agreement.

Texas Instruments is getting into the business of selling Code Division Multiple Access, or CDMA, chips a business Qualcomm dominates.

, Compiled by the Business Journal staff


Quote of the Week

"It's needless damage. It threatens people's lives, and it doesn't further their cause."

, David Stearn, of developer Taylor Woodrow Homes, on the arson fires allegedly set by an environmental group in San Diego earlier this month. See front page story



Getty Images

Republicans Arnold Schwarzenegger and state Sen. Tom McClintock (left-right above), along with independent Arianna Huffington and Democratic Lt. Gov. Cruz Bustamante (left-right below), participated along with Green Party candidate Peter Camejo at a gubernatorial debate Sept. 24 in Sacramento. It was the first time the top five candidates in the Oct. 7 recall election faced off in a statewide forum.