Heart Disease Tests a Niche for Biosite
Monday, May 26, 2003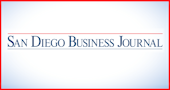 Heart Disease Tests a Niche for Biosite
Biotech: Two New Blood Tests Will Contribute 70 Percent of Revenue Growth
BY MARION WEBB
Next month, Biosite Inc. will introduce not one, but two blood tests to detect heart disease: One test will be used to manage heart failure patients by large doctor groups specializing in heart congestive patients; the other test helps diagnose chest pain patients in hospital emergency rooms.

The San Diego-based biotechnology firm, which develops novel protein-based diagnostic tests, made back-to-back announcements in May.

Kim Blickenstaff, Biosite's president and chief executive, expects both tests will contribute 70 percent to the firm's overall revenue growth.

Biosite forecasted between $170 million and $190 million in total revenue, and earnings between $1.55 and $1.73 a share for 2003.

The Triage BNP Test, a blood test already used by hospitals to detect congestive heart failure, is expected to generate $100 million in revenue this year, he said.

"We are only in our third year of marketing the test, so we think that (the demand by) doctors' offices will be twice as big," Blickenstaff said.

On May 15, Biosite and Jacksonville, Fla.-based medical distributor Physician Sales & Service signed a distribution agreement to bring the Triage BNP test into private doctors' offices.

Physician Sales & Service agreed to buy the Triage MeterPlus, a $3,000 portable device that runs the blood test, and the Triage BNP Test, a $30 test, from Biosite at an undisclosed price, and apply its 700-member sales force to call on doctors across the nation.

"Every time the doctors run the test they are reimbursed at $47.43 a test (by the federal Medicare program)," Blickenstaff said.

Private insurers work off that benchmark. An estimated 4.9 million people living in the United States have been diagnosed with congestive heart failure, a potentially life-threatening heart disease.

The million-dollar question is how many doctors and how often will they use BNP testing to assess patients, Blickenstaff said.

"The BNP will be used to manage heart failure patients," Blickenstaff said. The test measures levels of BNP, a hormone that is elevated in congestive heart failure patients, in 15 minutes.

"The lower you keep the BNP, the better the heart functions and the better the patient should feel," he said. He estimated, given that most heart failure patients visit their doctor four times a year, and provided they received a BNP test every time, that would translate to about 20 million BNP tests annually.

The Triage Cardio Profiler, which won U.S. regulatory clearance for detecting causes of chest pain in early March, will be made available to emergency room doctors in June also, Blickenstaff said.

Biosite and Fisher HealthCare, a Houston-based unit of Fisher Scientific International Inc. sell the Profiler to hospitals nationwide.

Doctors use the rapid test to identify or rule-out heart attack, heart failure, and to assess the risk of patients with acute coronary symptoms, he explained.

Every year, some 6 million people end up in emergency rooms complaining of chest pain.

The Profiler test costs $45 each, which is reimbursed by Medicare and private insurers.

Biosite is currently working on a new test for stroke patients.

"We are developing a test that measures multiple proteins associated with stroke," Blickenstaff said. If diagnosed early enough, stroke could be treated like a heart attack by opening up blocked blood vessels and restoring blood flow to the brain in stroke patients, he added.