Fox Sees S.D. As Setting for New TV Series
Monday, March 31, 2003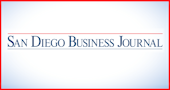 Fox Sees S.D. As Setting for New TV Series
by CONNIE LEWIS
Crews from 20th Century Fox Television plan to be in San Diego in early April to shoot a pilot for "Splitsville," the working title of a drama about a pair of writers who continue to co-author an advice column, despite ending their romantic relationship.

The script parallels real life, sources said, as Abby Kohn and Marc Silverstein, who wrote and co-produced the pilot, broke off their engagement, but remained friends and writing partners. They also wrote the script for "Never Been Kissed," a 1999 film for Fox Pictures, which starred Drew Barrymore and David Arquette.

Rob Dunson, the San Diego Film Commission's director of television, credited the commission with gaining Fox's interest in San Diego as the location for "Splitsville."

While it is not known what Fox will spend to shoot the pilot, Dunson said studios typically budget about $1.5 million to produce a single episode of a TV show.

In the case of "Splitsville," some of Fox's budget would pay the lodging expenses of its Hollywood crew, but local crews and actors might be hired as well.

If the pilot becomes a series, San Diego would also benefit from nationwide television exposure.

"You can't really put a dollar value on that," Dunson said. "But it's something we wouldn't have to pay for."

Kristoffer Polaha and Kate Beahan will co-star in the "Splitsville" pilot. Polaha played the late John F. Kennedy Jr. in the made-for-TV movie "JFK Jr.," which aired in January on TBS, said Fox spokesman Scott Grogin.

If Fox is pleased with the one-hour pilot, it would likely film five more episodes to air at a later date, Grogin said. But he would not speculate on the pilot's chances for success.

However, Dunson said the pilot's stars have the potential for "great chemistry," in a well-written script.

Dunson said the commission, meanwhile, is "courting" Walt Disney Productions to the city to complete shooting a feature film that was started overseas. He declined to give additional details, saying those plans are "very tentative."

Contact Connie Lewis via e-mail at clewis@sdbj.com, or call her at (858) 277-6359, Ext. 107.