Industry Consolidations Bite Corvas
Monday, March 3, 2003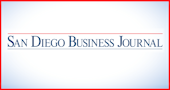 Interface - News from the Digital World
Industry Consolidations Bite Corvas
Biotech: San Diego Firm Will Be Bought by Vaccine-Maker Dendreon
BY MARION WEBB
Senior Staff Writer
San Diego-based Corvas International Inc. is the latest company to succumb to the wave of consolidations in the biotech sector.

Corvas announced Feb. 25 that the Seattle-based vaccine maker Dendreon Corp. agreed to buy the firm for $72.9 million in stock, less than the $95 million Corvas had in the bank.

Corvas isn't among the cash-strapped biotechs out there. But its stock was trading far lower than its cash value, which made it an attractive takeover candidate in this current market. Randall Woods, Corvas' chief executive officer, announced in December that the firm is looking to merge or be bought to fill its pipeline of drug or boost its stock price.

Under the transaction, each Corvas common share will be exchanged for 0.45 shares of Dendreon common stock based on Dendreon's Feb. 24 closing price of $5.79. Upon closing the deal, which is expected for the second quarter, Dendreon would own about 68.6 percent of the combined firm with Corvas shareholders holding the rest.

Dendreon chief executive Dr. Mitchell H. Gold said besides gaining Corvas' cash , which is nearly double the $55 million Dendreon had in the bank as of Sept. 30 , his firm fetches an advanced angina drug and complementary technologies. That includes Corvas' early-stage cancer programs in the field of serine proteases, including prostate-specific antigen, which fit in nicely with Dendreon's prostate cancer vaccine program.

Gold expects the acquisition will give Dendreon $110 million in cash.

Dendreon's focus will be on a revised Phase III trial of its cancer vaccine, Provenge.

The biotech reported positive results from a first Phase III trial of Provenge, but together with U.S. regulators decided to amend the protocol to test advanced hormone-resistant prostate cancer patients.

Gold hopes to finish this trial in early 2004, which would put Dendreon on track to file for U.S. Food and Drug Administration drug approval of Provenge in late 2004-early 2005.

He said about $22 million will be needed to fund Corvas' ongoing Phase II study of rNAPc2, an angina drug. Gold wants to await year-end data of the 125-patient rNAPc2 trial and then decide whether to continue testing.

The same compound was tested in an earlier Phase II trial in deep vein thrombosis patients.

Corvas, at the time, opted not to pursue additional tests asked for by the U.S. Food and Drug Administration, but instead moved the compound into angina patients where it had greater market potential, the firm said.

Dendreon also has an experimental vaccine for breast, colon, and ovarian cancers and another multiple myeloma compound dubbed Mylovenge in Phase II testing.

Gold said the $110 million should last the firm until 2006. The combined firm will have 173 employees, 58 of whom will remain in San Diego at Corvas. No layoffs are planned.

Gold will remain CEO of the firm.

Corvas' Woods, however, will not be a part of the new firm: " I will take the next few weeks to decide what the next chapters in my life is going to be," Woods said.

He said he has already received offers to head other biotechs in San Diego, and elsewhere, but for now, wants to focus on successfully integrating the two firms.