Venture Firms Give Mixed Message on Funding
Monday, June 23, 2003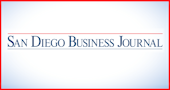 Venture Firms Give Mixed Message on Funding
Biotech: New Report is Gloomy, But Some Analysts See Positive News
BY MARION WEBB
The steep decline in financing raised for the biotech sector has left more than one-third of all publicly traded biotechs with less than a year's worth of cash, with 22 percent having less than two years of cash on hand, according to a recent study by Ernst & Young.

News of so many biotech firms in short cash supply may put a damper on the industry's euphoria over investors' returning to biotechs.

But some local biotech insiders don't want to give up hope that this spring's rally in biotech stock will subside in the June gloom.

"I think we are seeing some turnaround already," said Rich Mejia, director of the life sciences division at Ernst & Young in San Diego, commenting on the firm's report entitled "Resilience: America's Biotechnology Report 2003" which was issued June 12.

The proof lies in the positive data on recent private investments in public equities, or PIPEs, as well as debt financing, Mejia said.

These financing vehicles provide the additional capital that allows companies to continue their research and eventually seek regulatory approval, Mejia said.

He cited Amylin Pharmaceuticals Inc. as a recent example. The San Diego-based biotech said June 16 it expects to sell $150 million of convertible senior notes in a private placement.

Amylin plans to use the net proceeds to fund continued research and development, and market its first diabetes drug, Symlin, now up for regulatory approval.

Mejia, however, noted these types of financings are typically reserved for "mature firms" with future revenue producing drugs.

Gerald Yakatan, president and CEO of Avanir Pharmaceuticals, a San Diego-based biotech firm that sells a lip herpes treatment, agreed.

"If I had to guess I'd say that everyone is out there raising money right now, because it looks like you can," Yakatan said.

The recent positive cancer news coming from Genentech Inc. of South San Francisco, and Imclone Systems Inc. of New York, N.Y., not only did wonders for their own stocks, but had a positive effect on the entire biotech sector, Mejia said.

"There is money out there and the investment people are looking for good deals," he said.

Yet, competition for funding is fierce. Private biotechs with early-stage developments, have had a particularly tough time raising money, Mejia said. Investors have become much more selective where they put their money, favoring firms with products in development.

Venture-capital funding in biotech fell in 2002 for the second year in a row.

In San Diego, VCs last year struck 24 deals, plowing $377 million into local biotechs.

That compares to 39 signed deals and $593 million in VC funding for biotechs in 2001, Mejia noted.

Yakatan noted that VCs also have increasingly invested into public biotechs, taking advantage of their declining valuations. That takes money away from traditional VC investments in start-up firms which will take years to develop a product and given the current market depression, offer investors no exit strategy.

Aside from that Yakatan feels that San Diego's firms have a tougher time accessing VCs than their biotech peers in San Francisco and Boston where some of the oldest and largest VC groups focusing on biotechs are located.

Mejia however, disagreed, saying that "San Diego's biotechs continue to get their share of VC funding." In the first quarter of 2003, local biotechs ranked among the top four nationwide in terms of VC money raised, he pointed out.

San Diego is home to 28 public and 79 private biotechs, and continues to rank third in terms of the total number of biotech companies nationwide.

The market cap for local firms fell 46 percent to $12.2 billion in 2002 from 2001 "due to an overall decline in the public markets," according to the E & Y; report.

Total revenues from San Diego's public biotechs rose to $1.6 billion in 2002, a 12 percent rise from 2001. The entire U.S. biotech sector had $34 billion in revenue in 2002, up 13 percent from the year-ago period.

In the report, Michael Hildreth, E & Y;'s biotechnology director for the Americas, projected the industry may achieve profitability in 2010, but not without some lucky breaks in terms of regulatory and reimbursement dealings.

Yakatan and Mejia said key challenges to biotech success include getting drugs through clinical trials faster and more efficiently and reimbursement issues, including competition from "biogeneric drugs," and raising funding to finance the costly biotech developments.