S.D. Area Newspapers Tout Rising Circulation Figures
Monday, June 9, 2003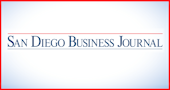 S.D. Area Newspapers Tout Rising Circulation Figures
Growth Linked to Changes In Marketing Strategies
BY PATTI STRICKLAND
This year's San Diego Business Journal List of San Diego Newspapers reflects the major fluctuations that occurred in the newspaper industry in 2002. Average total paid circulation for surveyed San Diego County newspapers in 2002 is 550,218, up 8.14 percent from last year's 508,818.

Still at No. 1 on The List is The San Diego Union-Tribune. As San Diego's largest daily newspaper, average paid circulation in 2002 increased 11 percent to 388,650, according to the Audit Bureau of Circulations, up from 350,162 in 2001. Circulation figures for the Union-Tribune were averaged between Monday through Wednesday subscribers (346,612), Thursday through Saturday subscribers (376,940), and Sunday-only subscribers (442,399).

Bill Nagel, circulation director for the Union-Tribune, credits the paper's circulation growth to the changes that have been made in marketing strategies for 2002.

"We have made a significant investment in direct marketing we are trying to telemarket less and be a little more strategic in how we're trying to acquire customers," Nagel said. "We are targeting and segmenting our market a little bit more accurately , that's allowing us to get a little more success in terms of selling (papers) and retaining those customers."

The Union-Tribune is owned and operated by privately held and La Jolla-based Copley Press, Inc., which also publishes San Diego County's the Borrego Sun and the Daily Breeze in Torrance. Copley Press publishes nine dailies, eight weeklies, and one biweekly paper in California, Illinois, and Ohio.

No. 2 on this year's List is the North County Times, owned and operated by Lee Enterprises and based in Davenport, Iowa. The Times' circulation for the year ended Dec. 31, as audited by ABC, is 92,858, up 2 percent from last year's 90,926.

The Audit Bureau of Circulations is a not-for-profit organization, established in 1914 as a third-party auditor responsible to advertisers, advertising agencies, and the media for the independent verification of members' circulation.

Lee Enterprises owns 44 daily newspapers in 18 states as well as various specialty publications throughout the United States, including magazines and online Web services.

The Southern Cross, a specialty paper focused on the Roman Catholic faith and related news also saw an increase in paid circulation in 2002. Circulation figures rose to 25,752 this year, up 5 percent from last year's 24,469. Ranked No. 3 on this year's List, The Southern Cross is the smallest employer on The List, with only five full-time employees and one part-timer.

"We come out every two weeks and we've always done it that way, with a very small staff," said Advertising Director Ann Burke.

Even with their small staff, subscriptions don't generate enough revenue to sustain the paper. Burke says that subscriptions only generate 49 percent of the paper's budget and advertising provides 34 percent of the budget, and the diocese subsidizes the remaining 17 percent.

Poway-based Calvert Communications Inc. appears three times on this year's List as publishers of the Poway News Chieftain, Corridor News, and the Rancho Bernardo News Journal. The Pomerado Newspaper Group is owned by Calvert Communications Inc. and publishes the three weeklies serving the North County communities of Poway, Rancho Bernardo, Rancho Penasquitos, Carmel Mountain Ranch, Sabre Springs and Scripps Ranch.

According to Verified Audit Circulation, each of Calvert's local publications reported an increase in circulation figures for 2002. Established in 1951, VAC was created to audit the circulation figures of newspapers, trade publications, consumer magazines, and a variety of other publications.

The News Chieftain, No. 7 on this year's List, reports a 2002 circulation of 1,452, up 4 percent from last year's 1,395. Actual distribution for the Chieftain, including non-paid circulation, is 13,410. The Corridor News, ranked No. 8 on The List with an average paid circulation of 554, is up from last year's 515 to make an 8 percent increase. The actual distribution of the Corridor News for 2002 is 12,049.

Circulation figures for the Rancho Bernardo News Journal increased from 506 to 552 this year, giving them a 9 percent growth in paid circulation for the year ended Dec. 31. Actual distribution for the Rancho Bernardo News Journal, including non-paid circulation, is 14,113.