Local Firms Get Lift From Biotech Rally
Monday, June 9, 2003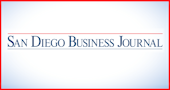 Local Firms Get Lift From Biotech Rally
Positive Announcements From High-Profile Companies Help Fuel Stock Prices
BY MARION WEBB
High-profile biotech companies Genentech and Imclone stole the show at the recent American Society of Clinical Oncology conference.

But San Diego-based cancer firms Ligand Pharmaceuticals Inc., Idec Pharmaceuticals Corp., and Vical Inc.'s also benefited from the recent biotech stock rally, which began weeks before the meeting.

On June 2, the last day of the meeting held in Chicago, the AMEX Biotech Index was up 5.6 percent and the Nasdaq Biotech Index was up 4.7 percent in late-morning trading.

The biotech rally was largely driven by anticipated positive late-stage data from high-profile biotechs, strong earnings in the sector, and efforts by the U.S. Food and Drug Administration to approve drugs faster, said John McCamant, editor of the Medical Technology Stock Letter in Berkeley.

One example is Cambridge, Mass.-based Millennium Pharmaceuticals Inc.

The approval of its blood cancer drug Velcade, announced on May 13, marked a historic record in terms of speeding through the FDA process, he said.

Still, McCamant agreed with other biotech experts who warned the rally won't last.

"We expect pullbacks," he said.

That's "part of the seasonality of biotech," a sector prone to booms and busts.

Many biotechs, especially smaller firms, are still hurting for money, saying it's tough to find investors willing to fund their costly research and development programs.

Several firms have restructured, as well as cut programs and workers, to conserve cash in recent months.

Still others announced consolidations.

The recent biotech rally and positive news coming out of the ASCO conference seemed to lift everyone's spirits , and McCamant foresees more good news ahead in the coming weeks.

"The events this summer will move (the biotech sector) forward," he said.

He projects two more FDA successes: Gaithersburg, Md.-based biotech MedImmune Inc.'s FluMistT, if approved would become the first preventive flu vaccine nasal spray on the U.S. marketplace; and, Lexington, Mass.-based Cubist Pharmaceuticals Inc.'s lead drug, the antibiotic Cidecin, also looks good, he said.

Next month's American Association for Cancer Research annual meeting in Washington D.C., canceled earlier due to the SARS outbreak in Toronto, will also do great things for the biotech industry, he said.

South San Francisco-based Genentech Inc. and Germany's Merck KGaA last week gave investors a long-awaited peek behind their drug development curtains, surprising many.

After Genentech's Avastin failed in a late-stage breast cancer trial, new Phase III data now suggests the drug plus chemotherapy can raise the survival rate in previously untreated colorectal cancer patients.

Genentech shares rose 6.58 percent closing at $66.73 on June 2 after hitting a 52-week high of $71.39 earlier in trading.

The firm is in talks with the FDA to file for Avastin's approval, BioWorld reported.

New data of Erbitux, Imclone's metastatic colorectal cancer, which was initially rejected by the FDA and led to the insider trading scandal of Imclone's former CEO Sam Waksal, also showed benefit in reducing tumors and slowing disease, Merck said.

Merck, which licensed marketing rights outside the U.S. and Canada from Imclone in 1998, plans to file for the drug's approval with European and Swiss regulators this summer, BioWorld reported.

Still, McCamant wasn't impressed with local firms presenting at ASCO.

"The local companies that had a shot don't have products in the space," he said.

That's because Carlsbad-based antisense firm Isis Pharmaceuticals Inc. and La Jolla-based La Jolla Pharmaceuticals Corp., failed in late-stage trials, he said.

Ligand's presented data from its approved cancer drug Ontak "wasn't cutting edge," and Vical's cancer vaccine data from a Phase II study also "underwhelmed," he found commenting on developmental projects.

Cancer vaccines (while encouraging, their development) are extremely slow, he said.

Still, their stocks benefited: Ligand Pharmaceuticals shares rose 92 cents to close at $13.65 on Nasdaq and Vical shares rose 11 percent to $4.68 on June 2.

Idec, which co-markets the non-Hodgkin's lymphoma drug Rituxan with Genentech, presented updated data from its second lymphoma drug, Zevalin.

But the successful firm didn't get much play.

Idec spokesman Vince Reardon explained the reason for that is that ASCO focuses more on solid tumors, an area Idec plans to pursue.

When the conference ended, some biotech stock prices also fell, at least temporarily.

On June 3, Vical's stock lost 4.94 percent to close at $4.45. The same day, Ligand's shares fell 2.78 percent to close at $13.27 and Isis' shares lost 5.2 percent to close at $5.83.

Still, McCamant doesn't see a trend and remains bullish on the biotech sector.

"Everyone keeps looking for a trend," McCamant said. "The entire tech stocks will continue to go up despite people's disbelief."