WEEK IN REVIEW
Monday, July 28, 2003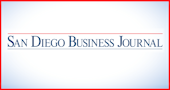 WEEK IN REVIEW
Top BUSINESS NEWS: JULY 18 JULY 24, 2003
Buck Knives Delays Move: Buck Knives Inc. has announced that it's delaying its departure from San Diego County by about a year.

Chuck Buck, chairman of the board of the popular manufacturer of pocket knives and hunting knives, made the decision in mid-July. The company will now depart its El Cajon headquarters in the first two months of 2005, not at the beginning of 2004 as previously announced.

The long lead time will make things easier on the company's 250 employees before the move. It would enable them to get their lives in order whether they choose to follow the firm to Idaho or stay behind, Buck said.

When the company first announced its move Jan. 14, Buck cited the high cost of doing business locally as the "No. 1 reason" for the move. With high workers' compensation rates, high energy prices, and other factors, the cost of business locally is about twice as expensive compared to Idaho, Buck had said at the time.

- - -

Callaway-Top-Flite Deal in Doubt: Callaway Golf's planned $125 million acquisition of Top-Flite Golf Co. was uncertain after a Delaware Bankruptcy Court declared that other qualified bidders might be considered.

Carlsbad-based Callaway intended to purchase Massachusetts-based Top-Flite, which filed for bankruptcy and formerly belonged to Spalding Sports Worldwide. The No. 2 makers of golf balls include the brands Strata balls and Ben Hogan clubs.

Yet recently, Adidas-Salomon AG filed a request to become the "stalking horse" bidder for Top-Flite. The term refers to an initial bid determined by the selling company so the assets aren't low-balled.

The court rejected the request by Adidas, the parent firm of Taylor Made Golf Co. However, the court approved a bidding process to allow for competing bids on Top-Flite, and setting a deadline for submitting bids at Aug. 27.

In addition to Adidas, Acushnet is also interested in bidding on Top-Flite.

The court also ruled that any winning bidder would not have to pay Callaway's breakup fees and expense reimbursements of about $4 million.

If more than one qualified bid is received by the court, an auction for Top-Flite would be held Sept. 3.

- - -

FBI Searches AMS: Advanced Marketing Services, the San Diego based distributor of books primarily to warehouse retail stores, said about a dozen FBI agents served a search warrant and subpoena on the company July 23, seeking records limited to the company's advertising services.

CEO Michael Nicita said AMS is cooperating fully with the investigation, and based on the firm's prior review, it "has not engaged in any wrongdoing."

Chuck Williams, AMS director of investor relations, said the subpoena was served just after a board meeting concluded, and came as a complete surprise.

Calls to U.S. Attorney Carol Lam's office in San Diego were not returned.

AMS reported net income of $1.8 million on sales of $256.6 million for its first quarter ended June 28, compared to net profit of $2.4 million on sales of $191.8 million for the like period of the prior fiscal year.

AMS said it saw a big spike in sales due to its distribution rights on the latest Harry Potter book, but the lower margins on those sales pushed down overall gross profits as a percentage of net sales to 13.4 percent from 15.3 percent in the prior year's first quarter.

- - -

Chicken of the Sea Deal: The parent firm of San Diego-based Chicken of the Sea International acquired shrimp importing firm Empress International Ltd. for an undisclosed price last week. Thai Union International's purchase will increase Chicken of the Sea's revenues by about $220 million, giving it annual sales of about $550 million.

Empress, based in Long Island, N.Y., and with 57 employees, imports frozen shrimp and shellfish primarily under the brand name Xcellent.

Chicken of the Sea, with 80 employees locally and 2,500 employees worldwide, is one of the largest canners of seafood, including tuna, salmon, crab, shrimp, oysters, clams mackerel, and sardines. It is the top ranked seller of canned salmon and No. 3 in canned tuna.

- - -

Amylin Repays Loan Early: San Diego-based biotechnology company Amylin Pharmaceuticals Inc. recently announced it repaid early a $62.5 million loan to New Brunswick, N.J-based Johnson & Johnson, representing a 7 percent discount from the total loan obligation as of its due date.

The loan, the majority of which was due June 2005, was offered as part of a collaborative agreement to develop pramlintide, Amylin's lead diabetes drug. The drug, which was renamed Symlin, is up for FDA approval.

In a press release from July 21, Amylin said it funded the repayment of the loan from the proceeds of a private placement of 2.25 percent convertible senior notes, whose gross proceeds totaled $175 million.

- - -

Liberty Station Deal: C.W. Clark Inc. and the Corky McMillin Cos. announced that they are teaming up to build one of the commercial components at Liberty Station, the 361-acre redevelopment project on the former Naval Training Center property in Point Loma.

National City-based McMillin is the master developer for Liberty Station, and is building 349 homes and 100,000 square feet of office space there now.

C.W. Clark, headquartered in the University Towne Centre area of San Diego, has a contract with McMillin to build out the Marketplace, a 150,000-square-foot retail and restaurant project, which will reuse four of NTC's historic buildings.

Groundbreaking for the $35 million project is set for early in 2004. Construction is expected to last until late 2004 or early 2005.

C.W. Clark is in negotiations with potential tenants and expects to announce leases over the next few months.

M. Wayne Donaldson, a local preservation architect, has been retained for the project.

, Compiled by the Business Journal staff


Quote of the Week

"We process about 60 million e-mails a day, and I'd estimate about 10 million of those are spam. It's a nightmare for everyone. People are having to increase their server size and bandwidth because of all the spam they're getting."

, Steve Deupree, executive vice president at American Digital Network, a Sorrento Mesa-based Internet service provider, on how spam is the No. 1 thing his customers complain about.