Callaway's Top-Flite Deal A Boost for Ball Business
Monday, July 7, 2003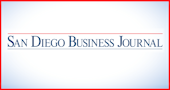 Callaway's Top-Flite Deal A Boost for Ball Business
BY MIKE ALLEN
Already the leading maker of golf clubs in the country, Carlsbad's Callaway Golf Co. could grab the No. 2 spot in golf balls following its proposed acquisition of Top-Flite Golf Co.

The distressed sale announced last week of Massachusetts-based Top-Flite still requires approval of a federal bankruptcy court in Delaware after Top Flite filed for Chapter 11 reorganization in tandem with the sale.

"This will immediately vault Callaway into the No. 2 position in terms of the golf ball market," said Terry McAndrew, editor of a trade newsletter, Web Street Golf Report in Phoenix.

Callaway entered into a definitive agreement to purchase Top-Flite's manufacturing plants in Chicopee, Mass., and Gloversville, N.Y., the company's brands and all its golf patents for $125 million, or close to 70 percent of its 2002 net revenues of $180 million. Besides Top-Flite, other brands made by the Massachusetts firm are Strata and Ben Hogan.

The acquisition was also deemed attractive by analysts because it doesn't include any of Top-Flite's debt of about $500 million.

With the purchase, Callaway will likely increase annual revenues to about $1 billion. The company known for its Big Bertha drivers said it would incur charges of $70 million to this year's earnings resulting from the purchase.

Callaway earned $42.5 million on revenues of $271.7 million for its 2003 first quarter. Last year, Callaway reported net profits of $59.4 million on revenues of $792 million compared to net income of $58.4 million on revenues of $816 million in 2001.

The Top-Flite purchase would boost Callaway's total employment to about 3,400 employees, including its Carlsbad-based operations of 2,300 workers. Top-Flite has some 900 employees in Massachusetts, and a total of 1,100 worldwide.

Callaway launched its golf ball line in 2000, and sold about $55 million in balls last year, but the operation has always lost money.

Callaway's premium golf balls compete directly with No. 1 manufacturer Titleist, which is also the leader in the value golf ball segment ($20 and under a dozen). Top-Flite, which was formerly a division of Spaulding Sports Worldwide, has the No. 2 position in the value market.

The market generally reacted positively to the Callaway news, with more than 3 million shares trading hands and the price jumping 4 percent to $13.75 on July 1.