PEOPLE
Monday, January 27, 2003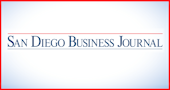 PEOPLE
Banking and Finance

Charles Grant Fisher has been hired by San Diego National Bank as assistant vice president and manager of its consumer lending group. Previously, Mr. Fisher spent nine years as a branch manager with Wells Fargo in San Diego. Alexa M. Pallas has been hired by California Bank & Trust as senior lending officer. Previously, Ms. Pallas worked as vice president in the commercial real estate finance department for US Bank in San Diego.

Construction and Design

Jack Fraser has been appointed West Division manager for MACTEC Engineering & Consulting. Mr. Fraser is responsible for 20 MEC offices. Craig Perry has been hired as director of pre-construction services and Brian Worthington has been hired as senior project manager at Taylor Frager, Inc. Marc Corwin and Bob Petronella have been named co-presidents of Metal Amore. The Associated Builders and Contractors, Inc. has named its 2003 board of directors: Brian Jordan, president; Ken Bertalan, secretary; Marcel Becker, vice president; Tim Umbarger, vice president; Victor Ramsauer, treasurer. The Building Industry Association has named its 2003 board of directors: Kent Aden, president; Mike Levesque, vice president; Scot Sandstrom, secretary/treasurer.

Government

The Rincon San Luiseno Band of Mission Indians has re-elected chairman John Currier, promoted council member Bo Mazzetti to vice chairman, and returned council member Vernon Wright to office.

Health Care and Biotech

Loren Porzel has been hired as a reproductive consultant and George Sims has been hired as a legal assistant at Conceptual Options. Katherine Kennedy and Douglas Wilson have joined the board of trustees at the Sidney Kimmel Cancer Center. Vincent Gotz has joined ProSanosT Corp. as senior vice president, business solutions. Mr. Gotz has more than 15 years' experience in public and private pharmaceutical and biomedical companies.

High-Tech and Manufacturing

V-Enable has announced the formation of an advisory board: Bryan Bergeron, Marco Thompson, George Easton and Neil Senturia. Richard Kennedy has joined Mitchell International, Inc. as senior vice president of customer service. Mr. Kennedy has more than 30 years of executive management experience in the areas of customer support, product management and engineering. Kathy Medlin has formed Medlin & Associates. Ms. Medlin has more than 10 years' experience working for the Navy in submarine silencing and vibration monitoring. The Aerospace Industries Association has announced Gerald Dinkel, vice president and CEO of Cubic Corp., and Thomas J. Cassidy, president and CEO of General Atomics Aeronautical Systems, Inc., as members of its 2003 board of governors.

Insurance

Timothy Jablonski has been appointed senior vice president and CEO of the San Diego office of Lockton Insurance Brokers of San Diego, Inc. Mr. Jablonski, who brings more than 29 years of insurance industry experience, is responsible for insurer relations, human resources, finance and management.

Law

Colin H. Murray has joined Gordon & Rees, LLP's San Diego office as a partner and member of the firm's Business & Technology Practice group. Previously, Mr. Murray served as a senior associate attorney for two years in Baker & McKenzie's Litigation Practice group, as well as a deputy district attorney in the San Diego County District Attorney's office. Kurt M. Kjelland and Franklin D. Ubell were elected partners of Brobeck Phleger & Harrison. Both Mr. Kjelland and Mr. Ubell specialize in litigating intellectual property cases. The Association of Legal Administrators has announced that Patricia L. Groff and Judith A. Hissong have earned the official designation of certified legal manager. Ken Klein has been promoted to partner at Foley & Lardner. Mr. Klein has 16 years of business litigation experience.

Miscellaneous

Merka Phoenix has been named program analyst for the College of Extended Studies at San Diego State University. Shannon VanNostrand has been named general manager for San Diego operations at TLC Staffing. Ms. VanNostrand has more than 20 years of experience in the staffing industry.

Real Estate

James Munson has been appointed managing director of transaction services for Burnham Real Estate Services. Mr. Munson has more than 20 years of commercial real estate leasing and sales experience. The San Diego Building Owners & Managers Association has announced its 2003 board of directors: Joe Murphy, president; Glenn Fibiger, vice president; Mary Pampuch, secretary; Ted Kimball, general counsel; David Susi, member-at-large; and Pamela Franzone, member-at-large. Mira Bozanich has been elected president-elect of the Rotary Club of Poway. Burt Dodge and Jacqueline Burriel have joined HomeBuyer Agents, Inc. as exclusive buyer agents.

AWARDS

The 2002 San Diego Defense Lawyer of the Year Award went to Daniel M. White, and the 2002 San Diego Defense Lawyer Honoree Award went to Sidney A. Stutz. RE/MAX Associates' Keith and Cris Weatherby have earned a RE/MAX Platinum Club sales award, the highest annual award in the RE/MAX sales network, for 2002 sales production. The San Diego Building Owners & Managers Association has honored public officials and volunteer members that contributed significantly to the organization's mission at its 2002 Membership Awards. The organization presented Public Official of the Year Awards to: Jim Madaffer, San Diego city councilman; Dianne Jacob, San Diego county supervisor; and Augie Ghio, San Diego assistant fire chief. Also recognized: Ted Kimball, 2002 Principal Member of the Year; Don Montell, Associate Member of the Year; Carrie Petro, 2002 Rising Star; Peter McConville and David Sikutc, Chairpersons of the Year; Ken Smith, Lifetime Achievement Award; and Joe Murphy, Presidents Award. San Diego State University researcher Skai Krisans has been awarded the 2003 California State University Biotechnology Faculty Research Award. Nancy Scull, partner and chair of the Real Estate Practice group of Luce, Forward, Hamilton & Scripps LLP, has been recognized as one of the 2002 Most Influential Women in Real Estate by Real Estate Southern California Magazine.