The Governor's Budget Plan
Monday, January 20, 2003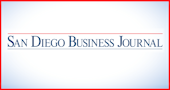 San Diego Business Journal Forum
The Governor's Budget Plan
It's a tough time in California. Gov. Gray Davis has proposed a state budget that includes large program cuts and nearly $10 billion in tax increases to balance the state budget and close the current $34.8 billion budget gap. These budget cuts would take more than $75 million from San Diego over the next two years, and the city has responded by imposing an immediate hiring freeze with local budget cuts to follow. So, the San Diego Business Journal asks:

What do you think of the governor's budget plan?
Dick Murphy
Mayor of San Diego

"If the legislators were to approve Gov. Davis' proposed budget, it will have a significant impact on our city. It would force us to lay off city employees and cut services. I will be working with the city manager and state officials to protect the city's interest."



Jessie Knight
President and CEO of the San Diego Regional Chamber of Commerce

"From a philosophical point of view, the governor has to be careful.

He's been talking about building some 500,000 jobs over the next four years. But he's got to be careful about adding more taxes on the backs of the business community, which is the main engine that will be creating those jobs."



Donna Frye
San Diego City Councilwoman, 6th District

"We have a huge problem. From the city's standpoint I'm going to do everything in my power to make sure our city does not get stuck with the proposed budget cuts. The other thing I'm going to do is study it and study it and study it to see if there's anything I can do to have other cuts made that don't have this kind of impact."



Roger Hedgecock
KOGO AM 600 Radio talk show host

"It is a fraud, brought to us by the same people who created the deficit An increase in taxes will drive businesses out of state I think Gov. Davis is lying."