Will State Deficit Aggravate Health Care Problems?
Monday, January 6, 2003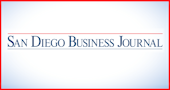 Will State Deficit Aggravate Health Care Problems?
Health Care: Industry Leaders Say That Substantial System Changes Are Needed
BY MARION WEBB
Senior Staff Writer
After Sept. 11, local health care leaders added bioterrorism preparedness to their existing concerns over a rising number of uninsured patients, overcrowded emergency rooms, inadequate reimbursement for hospitals and doctors providing health care, and a nursing shortage.

This year's state budget deficit will make an already bad situation even worse, they said.

Respondents to the 13th annual San Diego Business Journal/Deloitte & Touche Economic Outlook Survey for the health care industry echoed their views.

Out of 11 respondents, four projected the health care industry will be worse and five said it would be about the same.

Steven Escoboza, president of the Healthcare Association for San Diego and Imperial counties, a hospital lobbying group; Chris Van Gorder, CEO of Scripps, a five-hospital system in San Diego; and Dr. Robert Hertzka, president elect for the California Medical Association, a statewide physician advocacy group, all said that 2003 will be worse for the local health care industry.

Mary Lewis, vice president for the Alliance Healthcare Foundation in San Diego, which provides health care grants to other nonprofit groups in town, had an even gloomier assessment and expects this year to be "much worse" than 2002.

The main culprit, everyone agreed, is the massive state budget deficit and the drastic spending cuts, including health care.

Under a plan proposed by Gov. Gray Davis last month, 300,000 low-income parents with incomes between 61 and 100 percent of the poverty line (that is, $15,000 for a family of three), and 200,000 additional parents would no longer qualify for Medi-Cal, the government-funded health care program for the poor and uninsured, according to the California Healthcare Foundation.

Trouble Ahead

If the cuts take place, it would lead to a steep rise in the number of uninsured with consequential problems of access to care.

People can expect to wait even longer in chronically overcrowded emergency rooms, because the uninsured often don't see a doctor until they are very sick, Escoboza said.

Treating more uninsured means writing off more debt and that hurts hospitals, he added.

Moreover, it reverses a positive trend.

The number of uninsured has nearly doubled, from 378,000 in 1998 to 593,000 in 2001, according to county statistics.

Doctors working in hospitals, medical groups, and private office have long complained that reimbursement rates to provide care for the uninsured doesn't cover their own expenses.

A recent study by the Center for Studying Health System Change raises concerns about continued access to care for the indigent.

The study found that the percentage of doctors who treat Medicaid patients, or Medi-Cal patients in California, fell to 85.4 percent in 2001 from 87.1 percent in 2001.

Hertzka said Medi-Cal reimbursement for a single doctor visit fell to $16 in 2000, or $8, from $24 per patient visit in 1999.

Hospitals also have an increasingly difficult time finding doctors willing to be on call in the emergency room, Van Gorder said.

That's because doctors often make the trip to the hospital to care for a person who then ends up not paying for their services, he said.

According to a report by the California Medical Association, San Diego County's emergency care system, plagued by fiscal troubles and a critical shortage of nurses and specialty doctors, lost $21.6 million in 2000.

Hospitals Closing?

Hertzka said he worries about hospitals' financial health and expects the worst.

"We might start to hear about another hospital or two closing their doors," he said.

Escoboza and Van Gorder, however, disagreed.

"Hospitals will do everything they possibly have to do to stay open in 2003," Escoboza said.

Added Van Gorder, "I don't project more hospital closures and emergency room closures."

Among the toughest challenges remaining for hospitals are meeting the state's mandatory nurse-to-patient staffing ratios by 2004; retrofitting or replacing buildings to comply with California's earthquake safety standards by 2008; and, the continued threat that doctors will go to other places where reimbursement rates for Medi-Cal and Medicare, the federal health program for seniors and disabled, are higher, Van Gorder said.

Controlling costs and improving access to care and overall quality, however, no longer suffice, Escoboza said. He feels health reform is urgently needed.

"It will mean (a) substantial change in how we think about health care," he said.

Escoboza believes that there needs to be a dialog among health care leaders, business people, and others in the community, as well as the political will for change.

State Sens. Jackie Speier, D-San Mateo, and Sheila Kuehl, D-Los Angeles, have each crafted legislation that could open the door for such a dialogue, said Escoboza.

Speier's bill seeks to develop an employer-based health care coverage system that would provide health insurance to every employee in California, while Kuehl's bill proposes a slightly different model covering as many people as possible, Escoboza said.

Details of the bills still need to be worked out, but Escoboza said they are both on his radar.

"I think we will see legislators, employers, health providers and business people (give their) input," Escoboza said. "This will be a test whether we are willing to fix the system now rather than watch it crash and burn."