Biotech Stock Falls After Poor Test Results
Monday, February 24, 2003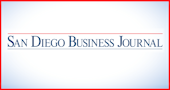 Biotech Stock Falls After Poor Test Results
La Jolla Pharmaceutical Downgraded After Report On Lupus Drug Showing
BY MARION WEBB
Senior Staff Writer
Two analysts downgraded La Jolla Pharmaceutical Co.'s stock after the San Diego-based biotechnology firm announced its experimental lupus drug failed to show a statistically significant slowing of kidney trauma in late-stage testing.

The stock lost $5.47, closing at $2.08 on Feb. 18, the day of the announcement.

The next day, Thomas Dietz, an analyst with Pacific Growth Equities in San Francisco, downgraded La Jolla's stock to "under weight."

Pacific Growth defines the rating "under weight" as the stock's total return is expected to be below the average total return of the analyst's industry, on a risk-adjusted basis, over the next 12 to 18 months.

"Due to the present uncertainty around the timing and regulatory route for LJP 394 (the previous name for the experimental drug Riquent) and La Jolla's ability to obtain sufficient capital to progress LJP 394 and its pipeline, we have downgraded the stock to under weight," Dietz wrote in his analyses report on the firm.

He estimated La Jolla had about $42.5 million in cash at the end of 2002, which will last the firm until the end of this year, possibly early 2004.

Dietz didn't estimate how much cash the firm may need to progress Riquent trials.

The nearly two-year study tested Riquent in 145 patients with lupus, a life-threatening autoimmune disease affecting about 1 million patients in the United States and Europe.

An additional 153 people received sugar pills.

Patients were treated for a median 46 weeks with some receiving 96 weeks of treatment.

The results showed that patients on Riquent went longer without kidney complications compared to patients on placebo.

But because Riquent failed to raise the length of time to renal flare, a manifestation of lupus, the results didn't meet the required technical standards of statistical significance, he wrote.

Dietz said he believes La Jolla will need to complete another trial in order to win Food and Drug Administration approval for Riquent.

La Jolla, meanwhile, said it plans to complete analysis of the Phase III trial and meet with regulators. The analyst will await FDA commentary before revising his opinion.

La Jolla executives offered some explanations why the trial may have failed.

In a statement, the firm noted a greater percentage of patients received immunosuppressive therapy upon enrollment of the study, which may have affected Riquent.

The other explanation was that the sickest patients in the placebo group tended to drop out faster than those receiving Riquent.

But the firm noted the observations were preliminary and require review by regulatory officials and medical experts.

Separately, Los Angeles-based Roth Capital Partners Inc. said it downgraded La Jolla's stock from "buy" to "neutral."

The venture banking firm just initiated analyst coverage on La Jolla on Feb. 13. An analyst was not available for comments.

La Jolla said in a statement "its guidance to investors and others will be limited during this time."