UCSD Joins Potent Biotech Consortium
Monday, August 18, 2003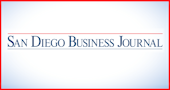 UCSD Joins Potent Biotech Consortium
BY MARION WEBB
UC San Diego scientist Dr. Thomas Kipps hopes to be among the first scientists to benefit from a new consortium aiming to move discoveries made at the school into clinical trials.

The consortium, named PharmaStart, joins the University of California campuses in San Diego and San Francisco, Stanford University, and SRI International, a nonprofit research institute in Silicon Valley.

The idea behind the venture is predicated on the knowledge that many venture capitalists and drug firms are no longer willing to finance technologies unless they have shown some promise in humans.

"It is not good enough to cure cancer in a mouse any more," said Dr. Edward W. Holmes (photo), vice chancellor for health sciences at UCSD and dean of its medical school. "We need to move our extraordinary science out of the laboratory and into the clinic."

Traditionally, that has happened when drug companies license drug molecules from universities, or if professors receive financial backing from venture capitalists to start a company.

Industry experts, however, say the cost to bring a single drug to market has been steadily rising in the last few years. According to recent estimates, it now takes up to $800 million and more than a decade to develop a drug. And, most molecules fail as drugs.

By focusing on late-stage drugs nearing regulatory approval, investors can significantly cut their financial risk.

"I think people are being realistic in their assessment of cost and risk involved in financing the development of molecules early in the development cycle and as a result, compounds that would have been funded in the past will not be funded today," said Standish Fleming, a partner with Forward Ventures, a biotechnology and health care venture capital group located in San Diego.

Validating Ideas

That leaves the many promising ideas generated at universities in the "transitional watershed" between basic science and clinical development, said Kipps, a UCSD professor and head of its hematology and oncology division.

"There are so many ideas that need validity," he said, adding it takes a significant amount of money and expertise to move early discoveries to the next level.

Holmes said the universities will not become drug companies.

The consortium will make it easier for scientists across geographical borders to collaborate. At the same time they gain access to SRI's consultants and pre-clinical development services, including toxicology facilities and manufacturing that UCSD can't afford to have.

"Testing for toxicology and validation is tremendously costly," Kipps said.

Yet, doing this work beforehand is important to VCs and drug companies, he said.

"Anything that the universities and the NIH (National Institutes of Health) can do to bring compounds further along and shorten the development time is very helpful for venture capitalists," Fleming agreed. "The time we need for the investment to mature and provide a return has been the biggest challenge for VCs."

While it's too early to say whether the consortium will make academic medical discoveries more attractive, two SRI officials say it has already generated interest with venture capital groups.

"We are contacted by VCs who are seeing the press releases and who are interested in the opportunity," said RaeLyn Burke, SRI's senior director of vaccines and biotherapeutic development.

Valuable Resource

She sees SRI as an invaluable resource to schools. It brings technical expertise and can help schools raise needed funding from government and private sources to do the toxicology studies.

SRI also helps professors write their drug development plans to raise money for spin off companies from VCs. Doing so makes it easier for VCs to analyze the cost and time involved for the investment.

In that sense, "SRI has committed to write up to 45 product development plans for the three universities free of charge," Dugan said. "But there is no requirement on the part of the investigator to work with SRI. They can take the plan wherever they wish."

Holmes said UCSD hopes to raise funding from foundations, pharmaceutical firms, VCs and angel investors needed to do the initial testing and manufacturing.

PharmaStart may be modeled on UCSD Connect's TransMed program, he said.

The nearly 2-year old program also promotes early-stage funding for promising ideas coming out of UCSD, bringing together potential investors with faculty members.

The initial program came under fire by some industry members who chided UCSD's exclusive partnership with Forward Ventures. But it has since been revamped for wider access. Holmes gave reassurances that "there would be no sweetheart deals in translational medicine or in PharmaStart."

In The Pipeline

While it's too early to say which scientists will benefit, Kipps' optimism is high.

Kipps, along with scientists at the Burnham Institute in La Jolla, and other research institutions, identified a leukemia compound derived from a Chinese herb, which has shown promising results in mice.

The next step requires "rigid testing and a lot of validation," which is costly.

Kipps hopes for an NIH grant to support some of the basic work and for PharmaStart to entice private investors.

"I think scientists will be encouraged to participate (in PharmaStart)," he said. "Part of our mission at the medical school is to direct activities towards improving how medicine is being practiced."

The public and benefactors of the schools want to see more basic research benefit patients.

Even government agencies follow that trend.

"More and more of the NIH and writing grants call out the significance of your work which needs to be defined in how you can improve the health of the nation," Kipps said.

Larry Goldstein, also a UCSD professor, said that the "NIH also supports a lot of basic research that is dedicated to discovering how biological systems work."

That is not to say that university scientists don't want to see their work tied to a drug. "An awful lot of us are interested in seeing their work contribute to human benefit," he said.

Kipps finds some "purists feel that tying an application to science will corrupt the science." Holmes expects that some basic scientists will continue to focus on basic science, Holmes said. Although he sees in the post-genome era, more scientists will want to answer questions in humans.

"No one is pressured in any way to participate in the program," Holmes said.

He said part of the UCSD School of Medicine's mission is to see their science improve human health.

Kipps drew this analogy to explain what some people refer to as the "valley of death."

"The area between basic research and (moving drugs into) the clinic is no-man's land , there are lots of mine fields to navigate and it takes a lot of infrastructure and a road map so we don't get destroyed in the process," he said.