San Diego EDC Honored With Commerce Department Award
Monday, April 28, 2003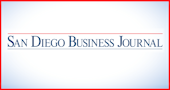 San Diego EDC Honored With Commerce Department Award
BY MANDY JACKSON
The San Diego Regional Economic Development Corp.'s efforts to attract investors and jobs into the county have been recognized with a national award.

The EDC will accept an Excellence in Economic Development Award from the U.S. Commerce Department in the category of regional competitiveness next month.

"I'm honored to recognize the San Diego Regional Economic Development Corp. for its outstanding efforts to empower California residents by attracting private sector investments and creating higher-skill, higher wage jobs," said Commerce secretary Don Evans.

The EDC helps retain local companies and bring other companies into San Diego County by providing information on available real estate; providing access to employee recruitment services; determining eligibility for tax and fee reductions, training funds, and energy efficiency programs; and other business assistance and incentive programs.

Upon notification of the EDC's award, the organization's president and CEO Julie Meier Wright said, "It takes a strong public-private partnership, such as the one EDC has forged in San Diego, to attract high-value investment, to act on public policies that affect competitiveness, and to work together to address long-term challenges that every region faces , work force, transportation, and housing. We've had great results to date and, even in this economic downturn, have fared better than California or the nation."

The organization will receive its award during the Commerce Department's national conference for its Economic Development Administration from May 7 to 9 in Washington, D.C.

One award each is given in seven categories annually in the areas of community and faith-based, economic adjustment, innovation, regional competitiveness, rural, technology-led, and urban or suburban economic development excellence.