Fear of SARS Complicates Business Travel to Asia
Monday, April 14, 2003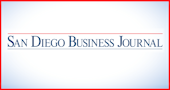 Fear of SARS Complicates Business Travel to Asia
BY MARION WEBB
Local entrepreneur Richard Ledford said he had to brush aside his wife's pleas to postpone a business trip to Shanghai.

Ledford said he understood her fears of him contracting severe acute respiratory syndrome, or SARS, the respiratory disease that is believed to have killed 103 people worldwide. Fears of SARS however, didn't deter Ledford from making the trip. Still, Ledford said he promised his wife he would wear a protective mask while traveling through Hong Kong, one of four suspected hotspots for SARS. The other three documented areas are mainland China, Singapore and Vietnam.

Ledford said after hearing media reports on SARS, he concluded the health risk of contracting the virus doesn't outweigh the health of his business, which is largely dependent on face-to-face meetings with Asian clients.

"I am a small-business person, I understand the risk, I understand I could get sick or quarantined, but my business requires my presence in Shanghai with my clients and the products," Ledford said.

Ledford, who runs Pacific San Diego Intl. Group LLC, a trading firm, not meeting face-to-face with clients in China and the Philippines would seriously disrupt business.

"Sitting in a communal bath and talking about world affairs is as important a business tool as signing a contract," he said.

Despite Ledford's personal risk assessment, health experts are not optimistic that SARS will vanish any time soon.

As of April 10, China, which was criticized for responding too slowly to the disease, reported a cumulative total of 1,279 cases and 53 deaths since November, the New York Times reported. SARS reportedly continues to infect residents of Hong Kong at a rate of 40 a day as of last week.

In the United States as of April 9, there were 154 suspected cases (including one case in San Diego as of last week) with more than 2,750 cases worldwide, according to the Centers for Disease Control and Prevention.

Growing Impact

The economic impact continues to grow. Morgan Stanley reportedly scaled back its growth forecast for all of Asia , except Japan , to 4.5 percent from its earlier forecast of 5.1 percent.

Companies worldwide have banned employees from traveling to the identified regions, called back staffers and canceled conferences.

Hugh Constant, vice president of the San Diego World Trade Center, said the SARS scare led his group to cancel a planned trade mission to Hong Kong and China.

"We had been advised by the U.S. government not to travel at this time," Constant said.

Doctors are also recommending against travel to the four Asian countries.

Thomas Gehring, executive director and chief executive of the San Diego County Medical Society, said, "My recommendation is unless it is an absolute emergency, you are taking a risk you don't need to."

SARS, which is suspected to be a form of a coronavirus, which causes the common cold, seems to be less virulent in the United States than in other parts of the world, the CDC reported. The virus is spread through the air by coughing or sneezing and presumed to be more dangerous to elderly and sick people than healthy individuals.

Suspected symptoms include a temperature of 100.5 degrees, a dry cough, and shortness of breath. People who show these symptoms within 10 days of having traveled to the identified Asian regions should call their doctors right away, the CDC recommended.

Gehring said people who suspect they may be infected with SARS should not seek care in local emergency rooms or the doctor's office, but call their doctors instead to prevent potential spreading of the virus. Doctors have been instructed to call the county Health Department to get information, he said.

"It would be foolish to think that there won't be more (SARS) cases in San Diego," Gehring said.

But Ledford believes SARS has created a lot of unneeded anxiety given the relatively low death rate. He recently returned with a clean bill of health from Shanghai and said before embarking on his next trip to the Philippines he worries more about becoming a victim of crime there than SARS.

Other businesspeople from San Diego, however, are taking a more cautious approach.

Chinese-born Joseph Wong is president of Joseph Wong Design Associates, a local architectural firm.

Wong returned from a trip to China in late February and was supposed to fly to Guangdong and Hong Kong last week to meet with potential clients.

"But with the SARS going on and the other party of the conference not coming from Europe, I am postponing it," Wong said.

Wong is optimistic he'll remain in the run to win a "multimillion dollar" contract for a bank project in China and plans to fly late this month.

That is, if the SARS crisis settles down.