Truck Inspections Causing More Headaches at Otay Crossing
Monday, September 30, 2002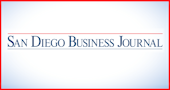 Truck Inspections Causing More Headaches at Otay Crossing
BY MANDY JACKSON
Staff Writer
As an Oct. 7 Mexican customs deadline nears for the U.S.-Mexico border crossing in Otay Mesa, planning is under way to deal with traffic congestion in the eastern border area of San Diego.

The Mexican customs department announced less than a year ago that empty trucks crossing into Mexico will be inspected at the cargo entry starting Oct. 7. U.S. Customs already inspects empty trucks entering the United States.

Currently, about 1,000 empty trucks per day use the same gate as passenger vehicles at Siempre Viva Road to enter Mexico from Otay Mesa. So that empty trucks can be X-rayed, beginning next month they will have to use the cargo entry, which is about a half-mile away at La Media Road. That entry already sees about 2,000 full trucks every day.

According to Alejandra Mier y Teran, executive director of the Otay Mesa Chamber of Commerce, "On this side we do not have the infrastructure improvements to make this system work."

The trucks approach the border on Otay Mesa Road from Interstate 805. On three trial days this summer, Mier y Teran said trucks were backed up for about two miles on La Media Road. Instead of taking one or two hours to get across the border, drivers reported waits of five to seven hours, she said.

Mier y Teran said not only does the truck backup cause problems for businesses in Otay Mesa, it also affects exporters throughout California who are trying to deliver parts and goods , some of which are time-sensitive , to Mexican factories and consumers.

Business Affected

Mike Murphy, chairman of the Otay Mesa chamber's transportation committee and president of Murphy Development Co., has three Otay Mesa locations , the San Diego, Brown Field and Siempre Viva business parks.

"This truck backup problem affects virtually all companies in Otay Mesa that do business in Tijuana, all other companies that do business in Tijuana, and companies and employees that do business in Otay Mesa," Murphy said.

There are more than 2 million square feet of commercial buildings in the Gateway, Siempre Viva and De la Fuente business parks directly affected by the truck traffic, according to Murphy. The buildings house many companies that do business across the border, including some Fortune 500 companies.

"If we don't get help, jobs and businesses in Otay Mesa will suffer," Murphy said.

The city of San Diego, the California Department of Transportation, the Otay Mesa Chamber of Commerce and U.S. and Mexican customs officials are working on options for rerouting the trucks.

Elsa Saxod, director of San Diego's office of binational affairs, said the city learned only six months ago that Mexico's new Customs director wanted to make sure empty trucks were inspected.

She said U.S. Rep. Bob Filner, D-Chula Vista, Sen. Barbara Boxer, D-California, and others have written letters requesting the Oct. 7 deadline be moved back so the city and Caltrans have more time to implement short-term traffic solutions.

In a letter to Treasury Secretary Paul O'Neill, Boxer requested his assistance in negotiating more time with Mexican customs officials. The Treasury Department oversees U.S. Customs.

In her letter, Boxer wrote that delays at the border create an anti-competitive burden for the San Diego and California exporting community.

"The Otay Mesa commercial port in San Diego accommodates over $8.1 billion in exports every year, 62 percent of which are from outside the San Diego-Imperial County region," she added.

Help Still A Ways Off

Caltrans is scheduled to begin construction of state Route 905, parallel to Otay Mesa Road, in November or December.

Pedro Orso, district director for Caltrans in San Diego and Imperial counties, said the approximately 9-mile SR 905 project from I-805 to the border in Otay Mesa totals $297 million and should be completed in 2007.

The first phase includes a bridge and freeway interchange at Siempre Viva Road. It will take about two years to build.

Planning for SR 905 began in the mid-1990s when Caltrans learned that the cargo entry was being moved from San Ysidro to Otay Mesa, Orso said. He said he was made aware of Mexican customs' Oct. 7 deadline only about two months ago.

The Otay Mesa cargo entry opened in 1995. Truck access was moved from Virginia Avenue in San Ysidro.

Mier y Teran said there are some short-term solutions being discussed, but they won't be ready for implementation for a few months.

Caltrans is looking into building a slip ramp, which would still guide empty trucks to Siempre Viva, but it would curve around and drop them at the cargo entry at La Media Road, Mier y Teran said.

Another short-term fix would allow empty trucks to access the cargo entry from Siempre Viva and Drucker Lane. But, Mier y Teran said the gate at the entry would have to be widened to accommodate more traffic.

In the long term, an exit from SR 905 to Britannia Boulevard, prior to La Media, would be built. That would give trucks a longer stretch of road to line up on without affecting regular traffic in Otay Mesa, Mier y Teran said.