Spree Continues as Bank of Coronado Is Bought
Monday, September 30, 2002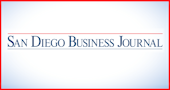 Spree Continues as Bank of Coronado Is Bought
Local Bank, Credit Union Announce New Locations
FINANCE
Mike Allen, Senior Staff Writer
First Community Bancorp is still buying, although the market in San Diego may not offer much else to purchase.

"There isn't much else to do out there. There aren't that many banks left," said FCB President Matt Wagner from his office in Los Angeles. "People know we're active buyers, so if they're interested in selling, we'd probably know about it."

Until FCB announced its latest deal, a $11.7 million purchase of the Bank of Coronado Sept. 20, no one except the sellers and buyers knew.

The deal came together fairly quickly after about a month of talking, Wagner said.

"It's a nice little bank, but it never really did much," he said. "If you look at our footprint, (Coronado) is one of the last affluent communities that we aren't in."

BofC shareholders agreed to accept $14.15 for each share they own in the all-cash deal rather than the usual cash and stock payment of most other bank purchases. Wagner said the sellers were told to take either all stock or all cash. Before the deal was announced, BofC stock was trading just above $12 so the offering price represented about 16 percent premium.

The transaction was valued at 1.9 times book, which sounded a bit low compared to the nearly three times book FCB paid for First National Bank.

BofC President Bill McLaurin, who will lose his job once the sale is completed, said, "For an all-cash deal, I think shareholders came out well on this."

Chairman Phil Akre, who owns 17 percent of the closely held stock and the largest shareholder, will be the main beneficiary. Next largest is Hovde Financial with 16 percent.

With three offices and $77 million in assets, the addition results in total assets of First National Bank, the local subsidiary of First Community Bancorp, to more than $1.1 billion, and 17 branches. The branches will assume the First National name.

Based in Rancho Santa Fe, First Community also operates a Los Angeles-based subsidiary bank called Pacific Western National Bank with more than $1 billion in assets and 19 branches in Los Angeles, Orange, Riverside and San Bernardino counties.

Wagner said most of BofC's staff of 44 will be retained, although there will always be some cuts once the acquisition is completed , likely sometime in the first quarter.

At First National Bank, which was officially acquired Sept. 10, about 20 people, primarily senior managers, were laid off, including President Dan Mathis. Others were given notice and are there until the consolidation process is completed.

In the last two years, FCB purchased eight other banks, including three in San Diego , Rancho Santa Fe National, Capital Bank of North County and First National.

FCB closed a $96 million stock offering in July and used a big chunk of that to finance its $155 million cash and stock purchase of First National.

Local bankers said they weren't intimidated by FCB's acquisition binge, and it provided chances to pick up new business.

"We're losing another long-term San Diego bank, which is unfortunate, but I don't look at this as a threat but an opportunity to expand our services to new customers," said Bruce Ives, president of Cuyamaca Bank in Santee.

Ives said he wouldn't be surprised if FCB continued to do more deals, although it would likely have to wait a bit as it absorbs what it just bought, particularly the $650 million-asset First National.

Additionally, in a filing last week, First Community Bancorp said it issued 50,000 stock option each to new FNB President Stephen Rippe and Senior Vice President Don Schempp. The options are exercisable in 2003.

- - -

New Branches: Southwest Community Bank opened a new office in Murrieta, its sixth full-service branch and first in Riverside County. The manager is Hank Shank. California Coast Credit Union said it moved its Mira Mesa branch to a new location a few doors down at 8220 Mira Mesa Blvd., Suite D. At more than $635 million in assets, CCCU has 20 locations in the county.

- - -

Small Change: Community National Bank, ranked among the nation's top SBA lenders, was granted preferred lender program authority in Arizona, Nevada and Oregon. Washington Mutual Foundation presented a $65,000 grant to Faith Based Community Development Corp. in Oceanside, a nonprofit that helps low-income people become homeowners. CUSO Financial Services, a local firm that provides broker-dealer services to 65 credit unions, picked up a new client, Patelco Credit Union in San Francisco, with about $2.8 billion in assets.

Send finance news to mallen@sdbj.com.