Governor Signs Bill to Limit Construction Defects
Monday, September 30, 2002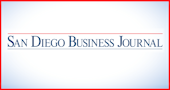 Governor Signs Bill to Limit Construction Defects
La Mesa, Mira Mesa Shopping Centers Sold
REAL ESTATE
by Mandy Jackson, Staff Writer
Homebuilders are much more optimistic about condominium construction now that Gov. Gray Davis has signed legislation that puts some constraints on construction defect lawsuits.

On Sept. 20, the governor signed SB 800, which was passed unanimously by both the state Senate and Assembly this summer.

Paul Tryon, executive vice president of the Building Industry Association of San Diego County, said, "It provides some much-needed clarity for builders and will improve the communication between homeowner and builder during times of dispute."

Builders have contended California's construction defect laws needed reform because they permitted a multitude of lawsuits, which have driven insurers out of California, increased liability insurance premiums and decreased condo construction.

In San Diego County, where the median price of a home is more than $300,000, condominiums are considered entry-level housing for first-time homebuyers.

The new law specifies expectations for how homes will be built and perform, and sets timelines for builders to respond to homeowners' complaints before a lawsuit can be filed.

Homeowners or homeowners associations have to file a complaint with the builder in writing before filing a lawsuit. The builder has 60 days to inspect the homes and propose a plan to repair the damage or make a cash offer. Homeowners have 30 days to accept the plan.

Repairs must begin within 14 days of the homeowners' acceptance of a plan and be completed within 120 days.

Tryon said the law addresses the functionality of homes. It doesn't outline how homes should be built, but outlines how they should perform. For example, the law says water should not be able to get through or around doors, windows, roofs and other parts of the house.

The statute of limitations for construction defect claims remains at 10 years after the close of escrow on a new home, unless otherwise indicated by the law. For instance, there is a four-year limitation on plumbing and sewer issues.

Additionally, the law holds homeowners responsible for regular maintenance outlined by homebuilders and product manufacturers. They can still take unresolved complaints to court, but the resolution process includes opportunities for mediation.

- - -

Retail Sales: The 172,500-square-foot La Mesa Crossroads shopping center has sold for $14 million to a local investor.

The shopping center, on El Cajon Boulevard in La Mesa, includes such tenants as Burlington Coat Factory and El Torito restaurant.

Pete Bethea of Burnham Real Estate Services represented the seller, Beauchamp Family Trust. Joseph Smith of Burnham represented the buyer, Otay Mesa International LLC.

Along with Pennsylvania-based GMH Capital Partners, Bethea also represented the seller of the 145,000-square-foot Mesa Shopping Center in Mira Mesa. Tenants include Seafood City, Hollywood Video and Rite Aid.

Spa Holdings LLC sold the center on Mira Mesa Boulevard for $17 million to GMS Realty LLC. The buyer was also represented by Bethea and GMH Capital Partners.

GMS Realty is a Carlsbad-based, privately held commercial investment, management and development company with more than 4 million square feet of retail space.

- - -

100 Percent Leased: The 78,819-square-foot building at 10965 Via Frontera in Rancho Bernardo, owned by Los Angeles-based real estate investment trust Arden Realty Inc., is 100 percent leased.

Cvideo Inc. has signed a four-year lease for 18,300 square feet. The company is a developer, manufacturer and marketer of hardware and software for networked digital applications.

Chris Pascale of CB Richard Ellis represented Arden Realty. David Marino of The Irving Hughes Group represented Cvideo.

- - -

Garden Gate Opens: Carlsbad-based SeaCountry Homes has opened up Garden Gate, a 133-unit neighborhood in 4S Ranch, a master-planned community in Rancho Bernardo. Newland Communities of La Jolla is the master developer.

Prices for the three- to five-bedroom homes in Garden Gate start in the high $300,000s.

- - -

Italian Metal: On Columbus Day, Oct. 12, Metal Amore will open its doors as San Diego County's only Italian metal showroom.

Metal Amore specializes in Italian architectural forged steel components such as balusters, scrolls, gates and rails. It is a division of Escondido Metal Supply. The showroom is at 1630 W. Mission Road in Escondido.

- - -

Final Notes: Vista-based Lucas & Mercier Development opened Brighton Place this month, a 47-unit single-family housing development in Vista priced from the $300,000s. La Mesa-based RSI Roofing will complete a roofing project for Elite Community Management's Alameda Homeowners Association in Rancho Bernardo. The project has 112 units in 56 buildings. American Mortgage Network, the mortgage banking subsidiary of San Diego-based American Residential Investment Trust, has opened a regional office in Minneapolis. Mission Viejo-based Merit Property Management Inc. has been named the property manager for Parkloft, a new 120-unit condominium development in Downtown San Diego.

Send residential and commercial real estate news to Jackson via fax at (858) 571-3628 or via e-mail at mjackson@sdbj.com. Call her at (858) 277-6359, Ext. 114.