Pacific Beach Restaurant Dishes Up Fresh Pasta, "Big Night" Special
Monday, September 23, 2002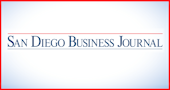 Pacific Beach Restaurant Dishes Up Fresh Pasta, 'Big Night' Special
What's On the Menu
by Jack White
It's hard to believe that Lotsa Pasta started out as a take-out restaurant.

The concept was, customers call ahead, order fresh pasta and a sauce of their choice, and then stop by on their way home and pick up their order. The concept was good, but business was so-so. Carol Blomstrom, the owner of Lotsa Pasta, decided she'd be better off opening a full restaurant as a complement to the take-out operation.

For diners, one of the main attractions of this restaurant are the pasta-making machines. The machines turn out angel hair, spaghetini, linguini, fettucine, penne and rotelli pasta daily. I am fascinated by the pasta-making process and always have to take a few minutes to watch the operation.

In addition to the pasta itself, they make their own sauces at Lotsa Pasta, which adds a unique taste to their product line. My favorite is the vodka sauce, made up of crushed red chili peppers that are steeped in vodka, then simmered along with roma tomatoes to cook off the alcohol. Cream is added with parmesan cheese and the result is a delicious sauce with a zesty bite that gives you a hearty meal on a chilly evening. There are, of course, a dozen other sauces from which to choose.

About six years ago, a movie titled "Big Night" was released to art houses across the country. It was a little movie that suddenly caught on at the box office.

The story was about two young men from Italy who opened an Italian restaurant in New Jersey in the 1950s. They worked hard and one night decided to risk the last money they had on one big dinner.

They decided to make timpano, an Italian dinner that is usually made just before Lent and is an opportunity to clean out everything left over in the refrigerator. It is a magnificent dish, a large pot in the shape of a drum is lined with pastry and filled with layers of penne, sauces, roasted vegetables, meatballs, sausage, cheese and fresh herbs.

Baked for hours, it is then sliced to reveal a masterpiece of colorful mouth-watering layers. Served with a creamy basil pesto, alfredo and vodka sauce, it represents the colors of the Italian flag.

This is a labor-intensive dish, and Lotsa Pasta is one of the few restaurants I have ever found where they work to present it in the traditional Italian style. The Big Night timpano special for two is offered at Lotsa Pasta, through October. It includes soup or salad and a bottle of house wine for $29.95.

If you like spicy dishes, you might want to try their Fra Diavolo dinner , jumbo shrimp saut & #233;ed in garlic and butter and simmered with white wine, roma tomatoes, fresh herbs and a touch of red chili pepper. It is served over a bed of lemon and parsley linguini. Fra Diavolo means the devil's brother and this dish has a nice bite to it. It costs $15.95.

Lotsa Pasta is hidden away in a shopping center in Pacific Beach, but it is worth the effort to find it. They have a delightful patio for outdoor dining and they have a large indoor dining room with over-stuffed wicker chairs. This is a family restaurant, so don't be afraid to bring the children.


Lotsa Pasta

1762 Garnet Ave.
In the Vons Shopping Center
Pacific Beach
(858) 581-6777
Web site: www.yumm.com
Prices: Dinner range between $7.95 and $15.95.
Hours: 11a.m. to 2:30 p.m. (lunch); 5 to 9:30 p.m. (dinner); open daily.
Access: Easy wheelchair access.
Credit cards: Most major credit cards accepted.


Jack's Restaurant Tidbits

The Westgate Hotel has announced the dates for the Fourth Annual San Diego World of Food and Wine.

From November 18-24, there will be 10 gourmet adventures at the downtown hotel. These include a "royal" tea service, Russian "Dine-asty" with caviar creations, and a Westgate "Presidential Dinner" with special guest former White House chef Pierre Chambrin. Bravo San Diego 2002, voted the city's best gala for two consecutive years, will feature 600 artists on 17 stages, Nov. 23. Proceeds go to San Diego's Performing Arts League. The event closes Nov. 24 with a champagne beer brunch and lobster fest. Every year the epicurean event gets bigger.

- - -

The Prince of the Piano, Peter Robberecht, who tickles the ivory keyboard daily during lunch in the Westgate's Le Fontainebleau Room and during the evening hours at Dakota's in the Gaslamp District, will be presenting a special one-man concert at the Lyceum Theatre at Horton Plaza, Sept. 24-29. Matinees are Sept. 28-29.

- - -

Roger Hedgecock's former restaurant is now called George's on 5th. Hedgecock sold his interest in the restaurant to his partners in early September.

The restaurant has changed its menu and is featuring prime cuts of beef.