Developers See No End to Demand for Downtown Units
Monday, September 23, 2002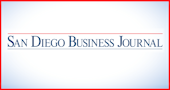 Developers See No End to Demand for Downtown Units
Real Estate: Condo Sales Vigorous, But Pricey
BY MANDY JACKSON
Staff Writer
Condominium construction in Downtown San Diego is moving at a rapid pace and most developers see no end to demand for the units.

According to the Centre City Development Corp., the city's planning and redevelopment agency for Downtown, 1,815 condominium units are under construction. Another 1,709 have been approved but have not begun construction.

Alan Nevin, director of economic research for San Diego-based MarketPoint Realty Advisors, said there are plans for about 7,000 for-sale housing units to be built during the next four years.

Prices average between $500,000 and $700,000 for a luxury two-bedroom unit, according to Nevin. Moderate units are about $200,000 to $300,000, including condos in some of the high-rise projects, he said.

CityFront Terraces, a 320-unit condominium project, was developed near the San Diego Convention Center in 1993. Because of poor sales due to the early 1990s recession, the project was converted to apartments.

In 2000, Miami-based Crescent Heights Inc. purchased and converted the property back to condos. The first condo sale there closed in July 2000. The 1,000th closing in Downtown San Diego since then will take place this month, according to Nevin.

Nevin said there are two major types of buyers of Downtown condos. The first group is 50 to 65 years old, mostly couples, living in the suburbs and usually working outside of Downtown. The other group is in the 30- to 40-year-old range. They are single, divorced or married with no kids and they also commute to work outside of Downtown.

San Diego-based developer Douglas Wilson Cos. started closing on sales at its Parkloft project next to the San Diego Padres' new ballpark during the second week of September. Thirty units will close this month adding up to $21 million in sales, said company President Doug Wilson.

Parkloft is a $60 million loft condominium project with 120 units priced from the $400,000s to more than $1 million.

"We aren't trying to be the cheapest ticket in town, but the best and most unique," Wilson said. The project has nearly 11-foot-high ceilings, hardwood floors, dual-paned windows and granite countertops.

Wilson acknowledged there is a lot of residential construction Downtown, adding supply and demand will eventually level off. However, he said, "A lot of this product under way, they aren't going to deliver for a while."

The developer is in the middle of plans for a second Parkloft building. Wilson wants it to be prepared for construction when the market is ready for it.

After Parkloft sells out and the first of San Diego-based Lambert Development's Renaissance towers opens later this year, no new high-rise luxury units will open for two years, Nevin said.

Bosa Development California Inc., a subsidiary of Bosa Development Corp. of Vancouver, British Columbia, has completed two high-rise condo projects in Downtown San Diego: Horizons and Discovery at Cortez Hill.

The developer is building Park Place and the first of two 39-story towers for The Grande at Santa Fe Place.

So far, Bosa has built more than 400 units, has 400 more under construction and at least 1,000 more are being planned.

Still, said Eric Martin, vice president of Bosa California, "If you look at the total market, it's a small percentage."

Discovery, which was moderately priced compared to Bosa's other projects, is sold out. The other projects are priced from the mid- to high-end of the market.

Intergulf Development Group, also headquartered in Vancouver, is building Treo @ Kettner, which has 326 units and will be completed in November.

Joe Werner, chief operating officer for Intergulf, said the company has reservations for 291 of the 304 units in its Little Italy project, La Vita, without doing any advertising.

The units in La Vita are a little smaller and lower-priced than Treo, which is nearly sold out. Some units at La Vita are priced at $300,000 or less, and $600,000 is the top price.

"There's still a lot of demand in our market," Werner said.

The locally based design and development firm of Sebastian & deFreitas built Rowhomes on F, which has 17 single-family, detached rowhomes in the East Village.

All of the units sold without any advertising and before construction was completed. Pricing started in the high $300,000 range with a few units at more than $500,000.

Dave Sebastian said the city wants higher-density housing Downtown, so it is unlikely a project of that size will be built in the future. Also, he said, land is getting too expensive for smaller projects.

Kevin deFreitas noted that many of the new units are luxury condos.

"I don't know if there's that many people out there willing to pay $400,000 and up," he said.

DeFreitas said the Meridian and Harbor Club opened in the recession of the early 1990s and took two years to sell out. He's fearful the same thing could happen again.

According to deFreitas, there is a very strong historical pattern in San Diego of a down cycle in real estate every 10 years, and 1991 was the last year that happened.

Nevin said now is a different world and a from the early '90s. He said it is unlikely interest rates , currently at historically low levels prompting many people to buy , will skyrocket to 12 percent like they did back then.