Survey Finds Legal Biz Is Downtown Core's Lifeblood
Monday, September 2, 2002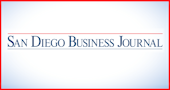 Survey Finds Legal Biz Is Downtown Core's Lifeblood
Foley & Lardner Makes CIO Magazine's Top 100 List, Again
LAW
by Rene'e Beasley Jones, Staff Writer
Law is big business in Downtown San Diego.

A recent survey by the Downtown San Diego Partnership shows legal firms and law-related enterprises make up 55 percent of all businesses in the city's core district , or the heart of Downtown.

"That is what we thought we'd find," said Marc Wolfsheimer, director of public relations for DSDP. "Law and government are huge here."

When Downtown's eight neighborhoods are considered, the percentage of law and law-related firms falls to 27 percent of all businesses.

Some firms, especially those that fight for companies' trademark and patent rights, have moved north to Carmel Valley to be closer to high-tech clients. But Wolfsheimer believes Downtown, where county courtrooms and records are located, will remain attractive to trial attorneys.

There's even the possibility of luring back some of the firms that moved north, he said, as well as new ones from out-of-state or outside the region.

The Downtown area continues its renaissance, Wolfsheimer said. Besides the bay, it offers excellent shopping, dining and entertainment.

A paid intern conducted the DSDP study during a five-month period. He walked each grid of the city, comparing business license certificates to storefronts.

A few establishments perhaps tucked away in a loft here or there may have sneaked through without notice, but Wolfsheimer feels the 4,066 active Downtown businesses detailed in the survey provide an accurate baseline for future comparisons.

In the Downtown core, retail shopping, restaurants and financial banking institutions followed up law firms and businesses.

This is the first survey of its kind, Wolfsheimer said, so no comparison to the number of law firms that existed Downtown in past years was available.

- - -

Honored: For the second consecutive year, Foley & Lardner has been named to CIO magazine's annual CIO-100 list.

The list recognizes the top 100 companies worldwide that exemplify leadership in business or organizational excellence.

A team of CIO editors and writers reviewed the applications and nominations to come up with the top-rated firms.

CIO is a magazine for information executives.

- - -

Advisory board member: SkyRiver Communications, Inc., a San Diego-based wireless broadband carrier, announced that William Eigner has joined the company's strategic advisory board.

Eigner, an attorney with Procopio, Cory, Hargreaves & Savitch LLP, acts as the company's counsel.

SkyRiver's advisory board advises the company on market growth and business development strategies and assists in creating contacts within the larger community.

Beasley Jones can be reached at (858) 277-6359, Ext. 109, or via e-mail at rbeasley@sdbj.com.