Firm Seeks to Protect the Rights of "Sam I Am"
Monday, October 21, 2002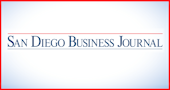 Firm Seeks to Protect the Rights of 'Sam I Am'
Doug Olson Named to Head Brobeck, Phleger's Intellectual Property Group
LAW
by Rene'e Beasley Jones, Staff Writer
These days, attorneys at Gray Cary can probably recite every word of Dr. Seuss' "Green Eggs and Ham."

The national firm, which has offices in San Diego, has filed an amicus brief on behalf of Dr. Seuss Enterprises, LP and other clients in a case that was heard by the U.S. Supreme Court on Oct. 9.

The justices devoted about an hour to the case, said Karl Zobell, one of four local Gray Cary attorneys who prepared the brief.

The case involves the constitutionality of the Copyright Term Extension Act of 1998, which extended the term of both existing and future copyrights by 20 years.

They are now protected 70 years after the death of the author.

In addition to Dr. Seuss tales, the brief was filed on behalf of the works of E.B. White, the author of "Stuart Little" and "Charlotte's Web," and Ludwig Bemelmans, who wrote a six-book series about a red-haired girl named Madeline.

Now that the Supreme Court has heard the case, it's just a waiting game, Zobell said. It could be months before a ruling comes.

- - -

New Head of Brobeck Group: Doug Olson has been named the head of Brobeck, Phleger & Harrison's firmwide intellectual property group.

Olson, who came to Brobeck in 2000, will oversee the national firm's growing IP practice, which includes 70 attorneys.

He was previously managing partner in the San Diego office of Lyon & Lyon.

- - -

Firm Names New Partner: Katherine Bacal has been elected partner at the San Diego office of Baker & McKenzie.

Bacal is a member of the litigation practice group, focusing on complex commercial litigation and intellectual property matters.

She started with the firm during September 2000.

- - -

New Hires: Fish & Richardson announced that corporate and securities attorney Eddie Rodriguez will join the firm's San Diego office as a principal.

Rodriguez, previously a partner at Brobeck, Phleger & Harrison, will lead Fish & Richardson's corporate and securities practice in San Diego.

Also, Procopio, Cory, Hargreaves & Savitch LLP added three attorneys , Steffani Stevens, Robert Wernli and Pattric Rawlins.

Stevens and Wernli will practice in the area of business and technology. Rawlins focuses on intellectual property law.

- - -

Honors: Michael Montgomery, an attorney at Casey, Gerry, Reed & Schenk, has been recognized as an Outstanding Trial Lawyer by the Consumer Attorneys of San Diego.

Also, the Daily Journal Corp., publisher of 16 legal and finance publications, released its fifth annual list of Top 100 Most Influential Attorneys in California. These San Diego attorneys made the list: William S. Lerach of Milberg Weiss Bershad Hynes & Lerach, David Casey Jr. of Casey Gerry, and Vincent Bartolla Jr. of Thorsnes Bartolla & McGuire.

Finally, Dennis Wickham, a member of Seltzer Caplan McMahon Vitek of San Diego, has been named Mediator of the Year by the judges of the U.S. Court for the Southern District of California.

- - -

New Office: C. Dan Conaway, a long-established East County attorney, has relocated his office to 275 E. Douglas Ave., Suite 110, near the county courthouse in El Cajon.

- - -

Bar Association Event: Norm Early, the former district attorney in Denver and a national legal analyst and noted author, will be the keynote speaker at the Earl B. Gilliam Bar Association 26th annual awards and scholarship dinner on Saturday, Nov. 9, at 6 p.m. The event will be conducted at the Wyndham Emerald Plaza Hotel, 400 W. Broadway. For information, contact Rod Shelton at (619) 441-4408 or rshelt@sdcda.org.

Send items of interest to Beasley Jones via e-mail at rbeasley@sdbj.com.