Truckers Hope Inspections of Empty Rigs Won't Create Lengthy Delays
Monday, October 14, 2002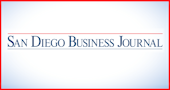 Truckers Hope Inspections of Empty Rigs Won't Create Lengthy Delays
BY MANDY JACKSON
Staff Writer
Truckers crossing the border at Otay Mesa have one more week to prepare for a new policy requiring Mexican customs officials to inspect empty trucks headed for Mexico.

The Oct. 7 deadline was moved to Oct. 21, when Mexican customs will begin inspecting the empty trucks with gamma ray equipment. About 1,000 trucks drive into Mexico from Otay Mesa every day.

San Diego and the California Department of Transportation representatives asked Mexican officials to extend the deadline so they could implement a short-term solution to traffic problems the change will cause.

Armando Freire, president of Dimex Freight Systems Inc. in San Diego, said a three-day trial run in June caused truck traffic to back up onto city streets and made empty trucks late in picking up cargo in Mexico.

Currently, it takes about 15 to 20 minutes for empty trucks and 30 minutes for full cargo trucks to cross the border, according to Freire. During the test, it took 1 & #733; to 2 & #733; hours for trucks to go south.

Currently, empty trucks are not inspected and they enter Mexico through the same gate as passenger vehicles. Beginning next Monday, empty trucks will join the 2,000 full cargo trucks that use the cargo entry each day.

Local businesses and trucking companies asked the city of San Diego and Caltrans to come up with short-term and long-term solutions to the traffic problems that could be in place in time for the deadline.

The long-term solution involves State Route 905, which is accessed from Otay Mesa Road off Interstate 805. Construction of the highway was already planned. In order to keep trucks off of city streets, an exit for Britannia Road will be built to take trucks to the frontage road leading to the cargo entry.

In the short term, full cargo trucks will continue on their current path, driving from Otay Mesa Road to La Media Road, which takes them to the frontage road. Empty trucks will access the cargo entry from the opposite side of the entry. The gate at the border will be widened so empty and laden trucks will be directed into separate lanes for inspections.

"At least we're going to get something that resembles sanity," Freire said.

The short-term solution should eliminate the backup experienced during the trial period, he said.

Dimex usually runs about 22 trucks across the border every day. However, because of ships diverted to the port of Ensenada because of the closure of West Coast ports during the last two weeks, the company has been running about 75 trucks into Mexico.

"Unless volumes get exasperated, I don't see a problem for now," Freire said. "It's doable, but it's not the best."

Other short-term options are being considered, said Cruz Gonzalez, director of San Diego's transportation department.

"It's not as fast as before, but it should be a fairly quick process," Gonzalez said.

San Diego Councilman Ralph Inzunza, whose district includes Otay Mesa, stepped in and helped arrange for $1.7 million in funding to pay for widening the gate at the cargo entry and adding one lane on each side of the frontage road along the border. Other local street improvements will be made along the route followed by the empty trucks.

The city contributed $1.1 million from the financial benefit assessment funds collected from new homes and commercial buildings to pay for infrastructure projects. Caltrans provided the other $600,000 and will conduct a scoping study to look for other sources of funding for future projects.

The long-term solution will cost $7 million to $8 million. Because only 15 percent of the trucks are from San Diego, Inzunza said, "The federal government should pay for this."

He got involved, he said, because "we in the South Bay have an ineffective member of Congress."

Steve Gross, president of Border Trade Services in San Diego and chairman of the Border Trade Alliance, a border trade advocacy group, said U.S. Rep. Bob Filner, D-Chula Vista, and Sen. Barbara Boxer, D-California, got involved in the issue too late.

"We do have to get our officials more engaged in getting the funding," Gross said.