Convention Center Among Waste-Management Honorees for Conserving Money and Energy
Monday, October 7, 2002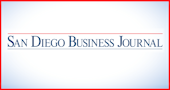 Convention Center Among Waste-Management Honorees for Conserving Money and Energy
The San Diego Convention Center Corp. won a statewide award for its efforts at promoting recycling and reducing waste.

The Convention Center received the state's Waste Reduction Awards Program honors for creative and innovative waste-cutting successes in the workplace. It was one of 2,152 businesses throughout the state and 217 in Imperial and San Diego counties to receive the award this year.

The San Diego Convention Center Corp., which manages, markets and operates the Convention Center, the San Diego Convention Concourse and the San Diego Civic Theatre, diverted more than 1,600 tons of waste in 2001. It saved about $357,000 in operating costs, said Frank Simpson, a spokesman for the waste board.

The Convention Center also saved more than 2,600 megawatts of electricity in 2001 and is working to update its policies so its conservation efforts continue, Simpson said.

Other local businesses receiving awards include Goodwill Industries of San Diego County, Inc., local outlets of Boise, Idaho-based Albertsons, Inc., local Vons stores, owned by Pleasanton-based Safeway, Inc. and local Target and Mervyn's outlets of Minneapolis-based Target Corp.

"Business waste accounts for half of the materials potentially headed for California's landfills," said Linda Moulton-Patterson, chair of the waste board. "Every winner of this award has done an outstanding job of finding new uses and recycling opportunities for their surplus materials. That kind of dedication translates into savings for both the environment and the bottom line."