Defense, Crops Fueling Local Economy
Monday, November 11, 2002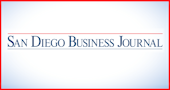 Defense, Crops Fueling Local Economy
Publisher's Notebook
by Ted Owen
Defense spending is up for the third year in a row in San Diego.

That is a shock to us all. It began its climb in 1999, going from $9.2 billion to $9.8 in 2000 and reached $10.1 billion in 2001.

The government statistics are always one year behind, so 2001 is the current figure. At the end of 2001, our GRP was $120.5 billion.

While $10 billion is a mighty sum, that really isn't reflective of the billions of dollars Congress is spending on homeland security. For local companies like SAIC and Titan, while they have multimillion dollar contracts with the Defense Department, the money for homeland security is just beginning to flow into the region.

Currently, San Diego is ranked as the largest military concentration in the nation, with more than 104,000 active-duty military stationed here. The payroll alone is $4.67 billion. In addition to the active forces, the Defense Department spends another $1 billion for retirement pay to the 58,753 retired military personnel and their surviving members.

San Diego has the largest number of military retirees and veterans of anyplace in the country. Including dependent family members, civilian employees of Department of Defense, and retired service members, the total population in the county is 292,200. Or putting it another way, more than one out of every 10 persons in San Diego is a part of the region's military community.

SAIC sits at the top of the Defense Contractors List. The company racked up $563 million in defense contracts in 2001 alone. No. 2 on the list is General Atomics at $178 million, followed by Nassco with $136 million, Newport News Shipbuilding at $123 million and Southwest Marine at $115 million rounding out the top five.

In the public sector, Spawar tops the charts with $4.3 billion. They employ more than 3,400 with a payroll of $1.3 billion. The numbers show that about 65 percent of their entire budget goes to private sector companies. San Diego companies raked in $342 million in contracts.

Our No. 4 industry is agriculture. It was another record-setting year for the industry in 2001. The total economic impact of agriculture on the region was $1.3 billion. That equates to a 2.8 percent increase, or $35.2 million gain. It's the ninth straight year for growth in the industry.

The top five crops are: nursery products and flowers at $855 million; fruit and nuts at $230 million; vegetables at $111 million; livestock and poultry products at $67 million; and livestock and poultry at $17 million.

The total gross regional product totals for 2001 are $120 billion. The estimate for 2002 at year's end is $127 billion. That would rank us as the 35th largest GRP producing entity in the world, sitting between Israel and Venezuela. California sits at No. 5.

Yes, the economy is running in a variety of gears right now, but is there growth? You bet there is, at least in good old San Diego County.