First Community Adds Billions to Growing Portfolio
Monday, May 27, 2002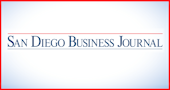 First Community Adds Billions to Growing Portfolio
Board of Miramar Federal Credit Union Opts to Retain Federal Charter
FINANCE
by Mike Allen, Senior Staff Writer
John Eggemeyer's First Community Bancorp, now based in Rancho Santa Fe, continued its buying binge this month, agreeing to purchase another community bank, Marathon Bancorp in west Los Angeles, for $20.2 million.

According to the agreement, shareholders of the $109 million asset bank on West Olympic Boulevard will receive either cash or stock in First Community Bancorp equal to $4.80 for each share of Marathon, assuming the price of First Community stock is within $19.50 and $23.30.

The announced price was 1.69 times Marathon's book value as of March 31 and 12.7 times Marathon's first quarter earnings.

The latest agreement follows First Community's acquisition agreements with First National Bank in San Diego, and the completion of deals with several smaller banks including Capital Bank of North County in Carlsbad, earlier this year.

When the latest acquisitions are completed, likely by the end of the third quarter, First Community will have total assets of about $2.1 billion. The holding company will use the First National name for its 15 San Diego County branches. The 18 Los Angeles area branches will operate under the Pacific Western National Bank name.

First Community's buying spree is making waves in San Diego, but isn't causing undue concern among local independent bankers.

Steve Wacknitz, president of Temecula Valley Bank, said he's been watching what First Community has done and wouldn't be surprised if the company makes overtures to his bank in the future.

"It wouldn't surprise me. We're now up to about $220 million and we have a profitable bank," Wacknitz said.

Frank Mercardante, president of Southwest Community Bank in Carlsbad with about $120 million in assets, was also well aware of Eggemeyer's track record and thinks he's planning much the same thing.

As chairman of Western Bancorp, Eggemeyer grew a bank holding company from about $60 million to $2.6 billion, then sold it to U.S. Bancorp for 4.4 times book value in 1999.

"He's done it before so I suspect that he's got a similar game plan this time around," said Mercardante. He said he hasn't been contacted by First Community.

Neither has Community National Bank CEO Tom Swanson, who heads up the $400 million bank in Escondido that appears to be an attractive target.

First Community President and CEO Matt Wagner said there are no further acquisitions planned in the short term, but wouldn't rule out anything.

"Right now we have a lot to do, integrating what we've got," he said.

Despite the expansion, trading of First Community's stock in recent weeks has pushed the stock down to $23.90 on May 21, about $3 below the price when it announced the purchase of First National in April. That decline roughly translates to a reduction of the total price tag to First National shareholders of $9 million, or about $133 million, but the final price is predicated on a moving average stock price that has yet to be determined.

The deal calls for each share of First National to receive either $10 in cash or 0.5008 of First Community stock, with no more than 45 percent of the total price coming in stock.

- - -

Citigroup Buying CalFed: Citigroup, the nation's largest financial company with more than $1 trillion in total assets and parent of Citibank, said it will acquire Golden State Bancorp, the parent of California Federal Bank, a savings and loan based in San Francisco with 26 branches in San Diego.

Based on the closing price of Citigroup's stock on May 21, the deal is valued at $5.8 billion in cash and stock.

CalFed is the second largest thrift in California with $54 billion in assets and $25 billion in deposits. It has 353 branches, including 336 in California and 17 in Nevada. Last year, it reported net income of $409.4 million.

In 1998, CalFed merged with Glendale Federal Bank and assumed Glendale's parent company's name and public trading status.

Citibank has a small presence in San Diego in the form of several loan production offices.

Janis Tarter, a spokeswoman for Golden State, said Citibank has 80 branches in the state. CalFed has 233 employees in San Diego.

Tarter said the deal is expected to close in the fourth quarter and shouldn't cause much job loss since Citibank has such a small presence and there is minimal overlap.

In addition to CalFed Bank, other subsidiaries belonging to Golden State Bancorp are Nationwide Mortgage Corp., Cal Fed Investments and Auto One Acceptance Corp.

Citibank does business in more than 100 countries and has some 200 million customers. It purchased Banamex, one of Mexico's largest banks, last year.

- - -

Miramar FCU Stays Federal: The board of Miramar Federal Credit Union decided to retain their federal charter and withdrew an application to convert to a state charter with plans to open up membership to the community , meaning anyone in the county.

"We took another look at it and wondered that if we became a community credit union, then we'd have to figure out how we would serve all these (new) people," said President Max Paul.

The credit union serving active and former Navy military personnel has been growing steadily in recent years and is making a nice profit, so there wasn't any overwhelming desire to convert now, Paul said.

Last year, Miramar FCU reported earnings of $1.7 million on total assets of $186.7 million. Assets increased 16 percent from the previous year. It has about 17,500 members.

- - -

Earnings Report: ITLA Capital Corp., the holding company of Imperial Capital Bank and a REIT, reported net income of $4.7 million for its first quarter, the same profit it earned a year ago during the first quarter.

Imperial Capital filed an application with the FDIC and the state's Department of Financial Institutions to convert its charter from an industrial bank to a commercial bank, allowing it to offer demand deposits. San Diego National Bank reported net income for its first quarter of $6.6 million on total assets of $1.6 billion, down 3.39 percent from the previous year's quarter. Its return on average assets was 1.6 percent compared to 1.84 percent ROA in the same period a year ago.

Total loans at the bank grew nearly 18 percent over the year to $1.4 billion. As the loan portfolio has grown, so has the amount of problem loans, which more than doubled to $5.6 million. However, that represents only 0.4 percent of the entire loan portfolio. The bank has set aside $18.3 million in reserves for the potential problems.

- - -

Capital Improvements: Landmark Community Bank, the Solana Beach-based bank in formation, began its capital offering that is expected to yield between $10 million to $12 million. Shares in the privately held company are $10 and will be sold in minimum lots of 500. The offering is scheduled to close July 5 in advance of the anticipated opening of the bank July 15.

- - -

Banking Scholarships: Bank of America awarded 32 scholarships to San Diego area high school seniors this month, ranging from $500 to $2,000. In the state, BofA awarded $280,000.

Also, Washington Mutual Foundation, the nonprofit arm of WaMu, donated $50,000 to AVID, a San Diego-based program that helps some 65,000 students nationwide.

The program, which started at Clairemont High School in 1980, stands for Advancement Via Individual Determination. It provides mentoring to students from lower income brackets to assist them in gaining entrance to college.

Send any finance news to mallen@sdbj.com.