Forbes' Ranks San Diego Best Business City
Monday, May 20, 2002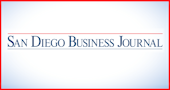 Forbes' Ranks San Diego Best Business City
Local Firm Helps Herd Seahorses for Birch Aquarium
SMALL BUSINESS
by Lee Zion, Staff Writer
A prominent survey of cities throughout the nation listed San Diego as the best place in the country to do business.

Four other cities and one county in California made the Top 10 in Forbes magazine's fourth annual Best Places for Business in Careers in America survey, with Santa Rosa in second place, Ventura at No. 4, San Luis Obispo at No. 7, Oakland at No. 8 and Orange County at No. 10.

Kurt Badenhausen, writing for Forbes, said the state has been "remarkably resilient" despite rising energy prices and doomed high-tech firms. California produced $1 trillion worth of goods and services last year, about one-eighth the nation's total.

Badenhausen noted the high-tech bust pushed two California cities out of the Top 10. San Jose fell from first place last year to 61 this year, while San Francisco fell from No. 3 to 54. San Diego, meanwhile rose from No. 8 last year to first this year.

The magazine cited the region's great diversity as the reason for the first place finish. Badenhausen named Sempra Energy, Qualcomm, Inc., Idec Pharmaceuticals, and the large array of biotech firms as an example.

Other factors included the area's strong job growth, at 21 percent over the past five years, and the growth in high-tech, which expanded 86 percent in the same period, he said.

Still other reasons include the area's colleges and universities, with 200,000 students, and even the "great climate," Badenhausen said.

In addition to the six California cities on the list, Las Vegas finished in third place. McAllen, Texas, came in at No. 5, while Boise, Idaho, was No. 6 and Brownsville, Texas, was No. 9.

- - -

Something's Fishy: To help an exhibit of seahorses get saddled up, a local company galloped to the aid of Birch Aquarium at Scripps.

West Coast Aquarium Industries completed 15 tanks for the exhibit, which opened May 11. The tanks, which cost somewhere between $20,000 and $30,000, will allow customers to get close to 13 species of seahorses, said Erin Coe, a spokeswoman for West Coast.

To highlight the unusually shaped fish , with a long snout, a kangaroo-like pouch and a prehensile tail , West Coast came up with some unusual shapes of its own. The tanks include a pentagon-shaped aquarium and a quarter-circle wedge, Coe said.

West Coast, with 22 employees, custom designs aquariums by sculpting in acrylic. The "thermoforming" process allows the company to make aquariums in any shape and size, Coe said.

Bob Burhans, the curator of Birch Aquarium, called West Coast a good match for the exhibit.

"The Birch Aquarium became really good at raising seahorses, and it seemed proper for us to put them on display," he said. "I know West Coast Industries, and I like the fact that it's in town."

- - -

Earn And Learn: The seven Westfield Shoppingtowns in San Diego County have just wrapped up a promotion that will donate nearly $100,000 to local schools.

At the end of May, local schools will find out how much they'll get for competing in the 2002 "Earning 4 Learning" program. Each school will win a gift card which can be used for school supplies, sporting goods, books, audio/visual equipment, music supplies and other educational items, said Victoria Muschek, a Westfield spokeswoman.

Schools earned prize money based on points earned between September and May 15. To earn points, school officials encouraged friends, students, parents and staff to shop at a Westfield Shoppingtown, and then present their receipts to customer service, she said.

Customer service would then credit customers' purchases to the school of their choice, awarding five points for every dollar spent in a department store, and 10 points for each dollar spent at a specialty store, Muschek said.

At each center, schools with the highest final point total will win the most money, with prizes ranging between $250 and $2,500. Prize value varies at each shopping center. A list of recipients and prize money was not available as of press time.

"The Earning 4 Learning program is a wonderful way for our Shoppingtowns to support students and schools in our region," Muschek said. "Our participating schools use the gift cards to purchase needed supplies and other equipment to enhance their overall school experience."

Send tips for this column to lzion@sdbj.com, or call Zion at (858) 277-6359, Ext. 112. The deadline for the June 3 issue is May 24.