South Bay Gears Up To Meet Demand for Industrial Space
Monday, May 13, 2002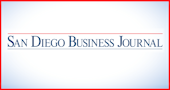 South Bay Gears Up To Meet Demand for Industrial Space
SPECIAL REPORT: Commercial Development

BY MANDY JACKSON
Staff Writer

While homebuyers are flocking to the South Bay in search of more affordable housing, business owners haven't been as quick to catch on to the relatively low prices and availability of land.

Linda Greenberg, senior vice president in the industrial group at Grubb & Ellis in San Diego, brings many of her clients to South Bay communities to show them the quality of what is being built there. They often want to locate their facilities in central San Diego, but want to pay Otay Mesa or Chula Vista prices.

"I have a guy out of Miramar buying a 66,000-square-foot building (in Otay Mesa)," Greenberg said. "He's going there for the labor force. But, if he wanted to buy a 66,000-square-foot industrial building in Miramar or Sorrento Mesa, there's nowhere to go."

If companies don't want to go to North County areas like Vista, San Marcos or Oceanside where some industrial land and larger facilities are still available, Otay Mesa and Chula Vista are the only other options, she added.

Rob Hixson, a first vice president at CB Richard Ellis in San Diego, said new development in central San Diego is more suited for office or research and development tenants because land there is so expensive.

Illustrating the price difference between the two areas, Hixson said energy technology developer Qualmag Inc. purchased land in Otay Mesa last year for $7.75 per square foot. Frito-Lay Inc. purchased land in Kearny Mesa for $19 per square foot.

"I think the challenge is going to be to get the higher end companies here , the high-tech and biotechs," said Mike Vogt, president of International Real Estate, a brokerage, development and management company in Otay Mesa.

High-tech and biotech companies have traditionally been attracted to areas like University Towne Centre and Sorrento Mesa because there is a major university, research institutions and other companies that are doing similar research, which the South Bay doesn't have.

"Twenty years ago, unless you were doing business in Mexico, or with a company that does business in Mexico, there was no reason to be in Otay Mesa," Vogt said.

- Shift In Focus

Now, furniture, energy, records and electronics companies are among the new operations in Otay Mesa, and they don't all have maquiladoras in Tijuana, he noted.

A major concentration of workers in the South Bay is beginning to bring more companies to the area.

Manufacturing employees live in the South Bay, Greenberg said. In the older areas of Chula Vista, between interstates 805 and 5, they have owned homes for many years.

Also, "there is a critical mass of high technology, white-collar employees east of 805. Just look at the traffic on 805," she said. It's all going north in the morning and south at night.

In 2001, 207,000 cars per day traveled on I-805 between the border and Highway 54, according to traffic counts from the California Department of Transportation. It was 170,000 in 1996 and 147,000 in 1991.

In his own study, Hixson found drive times were very similar between La Jolla High School and Sorrento Mesa, and La Jolla High School and Otay Mesa during rush hour because of traffic delays in central San Diego.

Hixson predicts construction of State Route 125, connecting the South Bay with central San Diego, will have a similar effect as the extension of Scripps Poway Parkway from Interstate 15 to Highway 67, completed in the mid-1990s.

Many industrial tenants in El Cajon looking for space to expand their businesses went north to Poway once access to the Poway Business Park from the East County was improved.

San Diego-based California Transportation Ventures, the private company building the new toll-road portion of Highway 125, has its licensing in place and expects to begin construction in August. Construction is expected to last until early 2005.

- Completion of Highway Is Crucial

Access to commercial land may be available after two years of construction on Highway 125, according to Chris Salomone, Chula Vista's community development director.

Regional mall developers are already eyeing a 300-acre site in Chula Vista. To the east of that, the city has set aside 700 acres for a university campus.

"Route 125 is critical," Salomone said. "Once people see that's under way and funded, it will open a lot of doors."

Highway 125 will run next to Eastlake Business Center, a 203-acre business park in Chula Vista. It is at Otay Lakes Road and Lane Avenue in the master-planned community of Eastlake, being developed by the Eastlake Co.

The 115-acre first phase has 20 buildings totaling 1.25 million square feet. Companies in the first phase include United Parcel Service, North Island Federal Credit Union and DNP America.

Rich Kwasny and Shane Harmon of CB Richard Ellis, along with Hixson, are marketing the business park.

"Eastlake wants to keep its image up. They don't want big-box industrial users," Harmon said. Most of the tenants are using their space in Eastlake for office and research and development space.

The 88-acre second phase has 65 acres left for sale after recent sales to Hitachi Home Electronics Inc. and Leviton, which makes cables, control systems and other components for electronic equipment.

In Otay Mesa, Murphy Development Corp. is building Siempre Viva Business Park at Siempre Viva and La Media roads. The developer plans to build up to 2 million square feet on 116 acres, completing the business park in the next three to five years.

Previously, Murphy developed the 80-acre San Diego Business Park and 155-acre Brown Field Business Park in Otay Mesa. When Siempre Viva is nearly complete, Murphy plans to begin construction at its new 80-acre Brown Field Technology Park.

So far, eight buildings totaling 675,000 square feet have been built in Siempre Viva. Iron Mountain moved into an 187,000-square-foot records storage facility in April. One space, totaling 32,048 square feet, is still vacant in the central phase.

- Hoping For A Strong Summer

A 116,000-square-foot building is available for lease in the 33-acre eastern phase of Siempre Viva, which will have up to 575,000 square feet in 4 to 6 buildings.

"Leasing activity has been good. We're hoping for a strong summer to pick up absorption in Otay Mesa," said Hack Adams, director of marketing for Murphy Development.

"It's a mixture of twin plant tenants and new companies coming to Otay Mesa for (the low) rents," Adams said.

Los Angeles-based Pardee Homes is developing Ocean View Hills Corporate Center in Otay Mesa, an 89-acre business park on Otay Mesa Road east of I-805. It is part of the homebuilder's 987-home, master-planned community, which is in Chula Vista.

Candy distributor Bee International has built a 94,000-square-foot facility, which is used for packaging, shipping and warehouse facilities.

Late last year, San Diego-based Qualmag purchased 6.7 acres to build a 120,000-square-foot manufacturing and research and development facility.

Qualmag designs and develops next-generation energy technology. Construction was to begin in the spring.

Otay Mesa and Chula Vista are the only South Bay communities with large business parks offering a lot of land and facilities.

Imperial Beach and San Ysidro are very mature and built-out markets, Greenberg said.

With a slowdown in the maquiladora industry, which saw many plants in Tijuana close or cut back operations, Otay Mesa's industrial market took a hit to some extent.

According to Grubb & Ellis, there was a 5.9 percent vacancy rate in Chula Vista's 8.2 million square feet of industrial space, and 15.3 percent in Otay Mesa's 5.7 million square feet at the end of 2001.

Vacancy in South Bay office properties, which total 626,747 square feet, was 7.4 percent.

Part of the slow commercial movement to the South Bay is due to a bad perception of the area. Chula Vista is working on its image.

"A lot of it is getting people down (to Chula Vista) to see what's there," said Salomone, of the city's community development department.

Also, there are plans to demolish some old factories on the bayfront and develop a "branding" program , placing logos and signs at the city's entrances.

There is still a lack of key retail and support services, according to Greenberg. The South Bay needs more service-oriented retail, such as restaurants, office supply stores, banks, doctors' offices and dry cleaners.

Still in the South Bay's favor is its proximity to the U.S.-Mexico border and Downtown San Diego. Otay Mesa, San Ysidro and parts of Chula Vista are in an enterprise zone. Otay Mesa is also in a foreign trade zone.