Balancing His Life - PROFILE: Eric Lund
Monday, May 6, 2002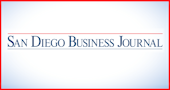 Balancing His Life - PROFILE: Eric Lund
San Diego East Visitors Bureau Chief Eric Lund Works Hard at Staying Busy
BY TANYA RODRIGUES
Staff Writer
Executive director of the San Diego East Visitors Bureau. Part-time event disc jockey. An active member of many East County and tourism organizations.

Still, Eric Lund doesn't expect to work another day in his life.

Lund says there is truth in the idea that if you find a job you love, that job doesn't seem like, well, work.

"I really believe in enjoying life to the fullest," he says. "I like to stay busy."

Lund, 43, became involved with the San Diego East, as it is called, when it was founded in 1996. He became its executive director a year later.

He's been in different facets of the hospitality industry since his teens, starting with a job folding boxes at his stepfather's doughnut shops at age 9.

Lund's days now are filled with balancing the needs of the tourism bureau's 330-member businesses, leveraging its $250,000 budget, planning marketing strategies, and overseeing San Diego East's visitor center and headquarters at the Viejas outlet stores in Alpine, as well as attending meetings upon meetings.

Multiple Interests

Even now, his activities outside of the office reflect his interests in hospitality. He works as a disc jockey at weddings and parties and volunteers his services at charity and community events.

The work, which supplements his income, helps Lund see a different, more operational side of venues all over the county.

Lund also continues to make time to take part in another passion , paragliding. His sister introduced him to it in 1993. At one point, he was ranked as one of the top 10 paragliding pilots in the country.

He's used to having multiple jobs and multiple businesses. In the last couple years, he's learned a lot about balancing his life.

"I used to be a full-on workaholic," Lund recalls. "I used to work the maximum hours of every day and not pay a lot of attention to home life or personal stuff.

"As I've gone on, I've learned that I love my work and I love my career pursuits, and I still do what other people do, but I set aside time for my family and my kids. I think that's important."

Setting aside time for himself has also made him more productive, Lund says.

Terry Saverson, president and CEO of the San Diego East County Chamber of Commerce, says Lund is uniquely suited to his job.

"Eric is very easygoing," Saverson says. "He's personable and charming.

"People tend to want to do what Eric asks them to do. Now, that's a good thing that's a talent."

Consensus Builder

Ask Lund about it, and his reaction is pure "aw, shucks."

"I just try to work with people and I try to stay specific with what I'm trying to accomplish," he says. "I try not to get too distracted. Maybe that's something that people can share with me at times and as a result of that, people move in the same direction."

Beyond that, it's just being nice, positive and using common sense, Lund says.

Cami Mattson, who runs the San Diego North Convention & Visitors Bureau, says Lund is a consensus-builder and a team player.

"I think he's done well," Mattson says. "He's definitely grown their membership base, so he's created a loyalty within the businesses there."

A third-generation East County resident born in La Mesa, Lund feels at home promoting the area.

He grew up a typical California kid, interested in hiking, backpacking, surfing, snorkeling and scuba diving.

His first job at the doughnut stores taught him important lessons about interacting with others in the workplace and customer service.

At age 18, a yearning for independence took Lund to Hawaii. While attending college classes, he began working at a tour boat company. He rose through the ranks, eventually becoming first mate on one of the historical ships the company used.

At that point, a co-worker asked Lund if he'd be interested in a trip around the world on a 53-foot motor yacht. The prospect was irresistible to the 19-year-old.

Ready For Adventure

Lund was 22 by the time the trip ended, and had seen New Zealand, Tahiti, Indonesia, Singapore, Sri Lanka, the Greek islands and Turkey, among other places.

Having had enough sea time to get his captain's license, Lund's next job upon returning to San Diego was at what was then called Invader Cruises, which now is the San Diego operations of San Francisco-based Hornblower Cruises and Events.

It was the early '80s and Lund, hired as a captain, became general manager and vice president within his first year.

He later moved to San Diego Harbor Excursion to be general manager. During that time, he also owned and operated a 64-acre livestock ranch.

Lund also opened side businesses. One was a travel agency that eventually had three full-time agents and another was a marketing firm focused on tourism businesses. Both closed by the early '90s.

In 1995, when Harbor Excursion was combined with employees from a sister company and then downsized, Lund was among the casualties.

Trying to decide what to do next, he took a friend's suggestion and began volunteering at the San Diego Railroad Museum. He handled the organization's marketing plans.

A month later he was hired as full-time marketing director.

He was there in 1996, when the San Diego East Visitors Bureau was being founded.

Lund was asked to help with the new bureau and began working part-time at both organizations.

He took over as executive director of the visitors bureau in 1997.

Fighting For Recognition

The founding of San Diego East was fueled by the frustration of many area businesses, which often felt slighted when it came to tourist events or even maps.

They decided a bureau of their own could combat the perception that East County wasn't interesting to visitors.

Still, the challenges of not having any major hotels and meeting spaces still buck the area's potential as a destination.

Lund and the bureau's board of directors coordinate efforts such as attracting hotel developers, upgrading the ratings of the current lodging facilities in East County, and coming up with ways to maximize the organization's marketing dollars.

Lund helped organize the new gaming tourism campaign that three major casinos in the county, Viejas, Barona and Sycuan, have recently launched with the San Diego Convention & Visitors Bureau.

Right now, San Diego East is working on two events that are indicative of East County's growing role in local hospitality.

One is an annual Fleet Week event at Gillespie Field. Another is a host committee-sanctioned Super Bowl event , a "Monday Night Football"-themed party for 1,000 people.

Among many people who felt the bureau was needed, Chuck Hansen, vice president of community relations at Viejas Enterprises, is considered San Diego East's founder.

When asked about how Lund is handling the organization he and others worked hard to establish, Hansen says he's pleased.

"Six years later," he says, "it's doing what all of us thought it should do, and a lot of it has to do with Eric's leadership."