Federal Plan Could Pump More Money to Small Firms
Monday, March 11, 2002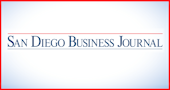 Federal Plan Could Pump More Money to Small Firms
Best Buy Opens New Location in Mira Mesa
Small Business
by Lee Zion, Staff Writer
A San Diego businessman may have the solution to a funding gap facing many small-business owners.

Richard Trotter, who manages the San Diego office of Atlanta-based Tatum CFO Partners, testified March 1 before the House Committee on Small Business about a tax-deferral bill to assist small businesses.

HR 3062, The Business Retained Income During Growth and Expansion (BRIDGE) Act, drafted with the assistance of Tatum CFO Partners, has been introduced in both houses of Congress. The bill would assist businesses too small to get assistance from banks, which generally regard business loans under $1 million as too risky, said Eve Gumpel, spokeswoman for Tatum.

Usually, these companies have nowhere to turn once they use up all their personal credit and family savings. Not even the venerable Small Business Administration is up to the task, Gumpel said.

The SBA has made only 50,000 small business loans a year in the past few years. This creates what Trotter called a "capital no man's land" for growing companies.

The bill would allow thousands of growing firms to defer up to $250,000 in federal income taxes for two years , until they're large enough to attract traditional, outside funding, he said.

The tax-deferred amount would then be payable with interest over a four-year period, Trotter said.

This method has an advantage over most other legislative solutions since it doesn't cost any money in the long term, while creating 600,000 new jobs in the first three years of operation, he said.

For the SBA to have that much impact, it would require $25 billion from Congress, Gumpel said.

HR 3062 is sponsored in the House by Rep. Jim DeMint, R-S.C., and in the Senate by Sen. John Kerry, D-Mass.

- - -

Hello, Good Buy: A popular electronics store has opened an outlet in Mira Mesa.

Eden Prairie, Minn.-based Best Buy Co., Inc. opened its new store March 8 at 9540 Mira Mesa Blvd. The new store, with about 115 employees, brings the total number of Best Buy stores to five in San Diego County, said Connie Stelter, a spokeswoman for the company.

The 45,000-square-foot store offers consumer electronics, personal computers, software and more. The store is also an entertainment center with more than 15,000 CDs, 3,000 DVDs and 1,000 computer software titles, Stelter said.

- - -

Improve Service: Small businesses throughout San Diego County can sign up for free classes to help improve customer service, courtesy of the San Diego East County Chamber of Commerce.

"Superior Service" begins March 12 and is offered from 2 to 5 p.m. The course is being held at Cuyamaca College's customer service training center at 500 Fesler St. in El Cajon.

The first class is part of an overall training course called the Customer Service Academy, a 54-hour course on customer relations, communication, conflict management and other business basics, said Della Elliott, a spokeswoman for the Grossmont-Cuyamaca Community College District.

The program is made possible by a $250,000 grant to Cuyamaca College from the California Community Colleges chancellor's office, Elliott said.

Also offering the same training are MiraCosta and Palomar colleges in North County and the San Diego Community College District. Their programs will be starting in mid-March, she said.

For information about the Customer Service Academy or to reserve a seat for the classes, call (619) 644-7608, or go to (www.customerserviceacademy.net).

- - -

Speaking Of Which: The Small Business Development & International Trade Center is also offering the Customer Service Academy. Training can be held at a workplace if there are 20 or more participants, said Mary Wylie, director of the center.

For information, go to (www.sbditc.org) or call (619) 482-6391.

- - -

More Classes: The Southeastern Economic Development Corp. is offering the "Entrepreneur Academy," seven classes for novice and experienced business owners alike.

The course is free, but participants must agree to attend all seven workshops. Sessions run from 5:30 to 9 p.m., and seating is limited.

The first six sessions will be held on successive Thursdays starting March 14. The final session will be held Friday, April 26.

For information, call (619) 527-7345.

Call Zion with tips for the small business and retail column at (858) 277-6359, Ext. 112, or e-mail lzion@sdbj.com. The deadline for the March 25 issue is March 15.